'Stargirl' Season 2: Courtney and Cameron's Relationship 'Worries' Yolanda, Yvette Monreal Shares
Yolanda, the hero formerly known as Wildcat, has been through so much in season 2 of The CW's Stargirl. It all started back in the season 1 finale when she killed Brainwave to get justice for his son, Henry Jr. Yolanda struggled to wrap her mind around the fact that she killed someone, no matter how evil they were. Her guilt put a strain on her relationships with the Justice Society of America, particularly her friendship with Courtney. And now that Courtney is forming a relationship with Cameron, aka Icicle's son, it looks like Yolanda and Courtney's friendship is in trouble.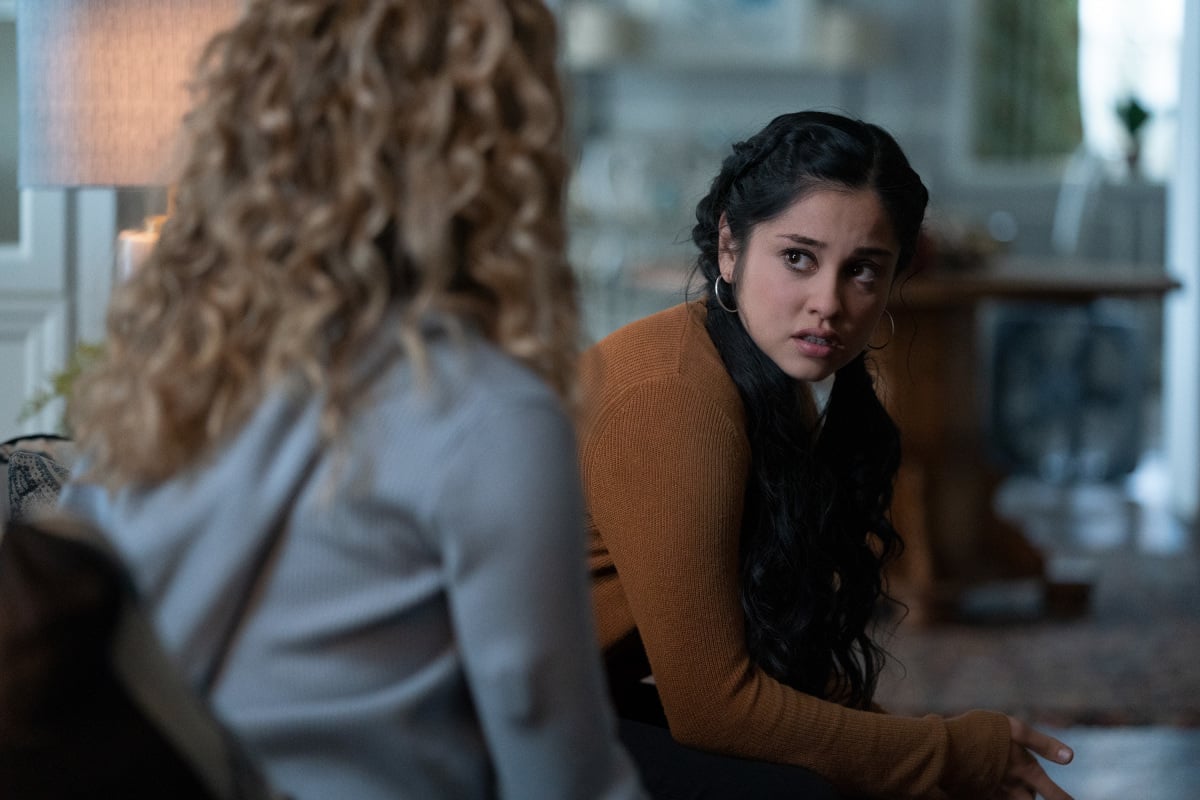 Yolanda quit the JSA in 'Stargirl' Season 2 Episode 7
In Stargirl Season 2 Episode 7, "Summer School: Chapter Seven," Eclipso assumingly targeted Yolanda after being released in the previous episode. We say "assumingly" because the show never confirmed that Eclipso was the one orchestrating Yolanda's hallucinations. But that would make the most sense.
Eclipso made Yolanda see visions of both Brainwave and Henry, Jr. Her guilt over killing Brainwave finally became too much for her, and she imploded. Yolanda tried talking with her priest about her struggles, but he just called her horrible mother. Then, Courtney convinced Yolanda to tell Beth and Rick that she killed Brainwave. Unfortunately, they were not able to give her the support she needed.
The entire episode was a downward spiral for Yolanda. And, by the end, she refused to be the one JSA member with the capability to kill. Yolanda quit the JSA and returned her Wildcat suit to Courtney.
Yvette Monreal comments on the future of Yolanda's friendship with Courtney
Out of all of the members of the JSA, Courtney and Yolanda have the strongest relationship. But it's realistic to claim that Yolanda quitting the JSA in Stargirl Season 2 will significantly affect her friendship with Courtney. But there is also another factor that will cause some trouble for the two friends.
Per TVLine, Yvette Monreal, who plays Yolanda in Stargirl Season 2, commented on how the budding romance between Courtney and Cameron will affect Yolanda's friendship with Courtney. Monreal said that Courtney and Cameron's relationship "is kind of sparking, and that worries [Yolanda] a bit. Courtney was my go-to, and now I see her with Cameron, which is not really the best idea. [The JSA] killed his father, so there's the potential for lot of turmoil and trouble there. I try to talk her out of it, but she's really into him, so it's not the best for Courtney and Yolanda's relationship."
It sounds as if Courtney and Yolanda's friendship will be tested even more than it already has in Stargirl Season 2. And we have no idea how it will all end because this season has contained too many surprises to count.
Will Courtney and Cameron become a couple in 'Stargirl' Season 2?
There's no doubt about it; Courtney and Cameron's relationship is the very definition of star-crossed lovers. Courtney is the leader of the JSA, and Cameron's father was the leader of the Injustice Society. It would make sense if Cameron followed in his father's footsteps, especially because he is developing ice powers. Plus, at some point in the comics, Cameron becomes Icicle.
But, in Stargirl, he's always been portrayed as a kind person. Even in Stargirl Season 2, after his father's death and Courtney constantly bailing on him, he's always willing to help others. One would think that Icicle's death would thrust Cameron into the villain world, but it hasn't so far. There's a genuine possibility that Cameron will join the JSA and start a relationship with Courtney. But the fact that Courtney's brother is the one who killed Cameron's father might not bode so well for their future. Plus, it sounds like Yolanda will not be on board for that scenario.
Stargirl Season 2 airs Tuesdays at 8/7c on The CW.
Source: Read Full Article