'Halloween Kills': Kyle Richards From 'RHOBH' Reveals What Really Terrified Her While Filming
Being chased by a murderous psychopath in Halloween Kills wasn't the most stressful part for Kyle Richards from The Real Housewives of Beverly Hills. Instead, she seemed pretty worried about filming in a swamp that could (or couldn't) be filled with alligators.
What scared Kyle Richards from 'RHOBH' when she filmed 'Halloween Kills'?
More than four decades later, Richards reprised her role as (little) Lindsey Wallace. She was one of the children who Laurie (Jamie Lee Curtis) was babysitting when Michael Myers terrorized them in the original 1978 Halloween. Richards recently shared what terrified her about the film as a child and what was extremely concerning for her when they filmed the latest installment.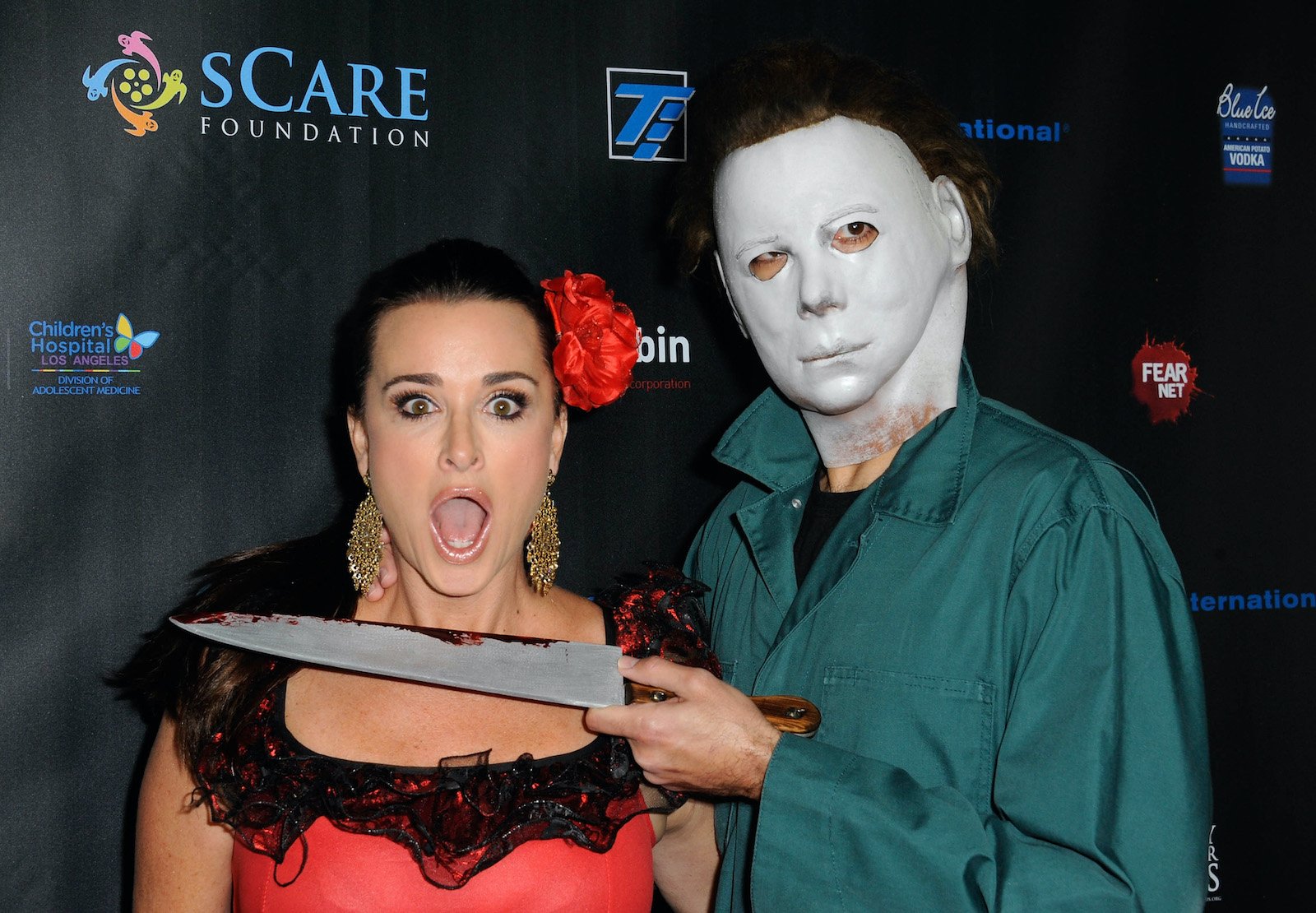 "When I was eight years old I asked my best friend to the premiere," she recalls in a clip Curtis shared on Instagram. "Her mom thought it was a trick-or-treat movie. Cute, ha ha. And we were terrified." Curtis and Richards' sweet relationship was seen on set. In the Instagram clip, Curtis reminds Richards she carried her in the film. So Curtis picks up Richards and carries her again on set as everyone laughs.
Richards admits that returning to the set made her face a lot of fears. "I run for my life," she says. "And get into this swamp. I see these three men, with flashlights looking for gators. And I'm like, 'What?' Back up did you say alligators?" She adds that instead of the town being terrorized by Michael Myers, she and others are waiting to take him down. "We are gonna get him first," she exclaims.
What scared Kyle Richards about 'Halloween' when she was younger?
Richards faced a few other "fears" when she made Halloween Kills. While she joked about having to cut her bangs for the role, she definitely seemed annoyed. "When I was eight years old, I played Lindsey Wallace in the original Halloween," Richards said in a confessional during RHOBH Season 10. "So it was really exciting when they asked me to reprise my role in the new Halloween."
"But cutting my hair was the director's idea," she insisted. "Because these bangs are not a good look for me!"  
She also recently shared how scared she was after viewing the original Halloween as a child. "As a little girl, when we went to the premiere, I didn't see it all put together," she told  E! host and friend Justin Sylvester. "My mom said, 'Oh, you can invite a friend,' so I took my best friend in second grade. We both ended up sleeping with our moms until we were 15 years old!"
She added, "People wonder why I have anxiety nowadays. It's because of too many horror films!" Richards said that actually making the film as a child was not scary. "As a little girl, when I did the original, I wasn't [scared] because I didn't realize what I was making," she said. "But this was actually scary [she said about her recent experience]. He is a terrifying image to look at anyways, and we were filming nights too."
'Halloween Kills' gators may be scary but is a 'RHOBH' reunion scarier?
Richards joked with E! about whether Halloween Kills or an RHOBH reunion was scarier. "That is a very hard question to answer!" she laughed at the question. "I mean I don't know, it's a toss-up, let me tell you."
The RHOBH Season 11 reunion is being teased as "epic" airing over the span of four episodes on Bravo.
Halloween Kills premieres in theaters and on Peacock on Friday, Oct. 15. The Real Housewives of Beverly Hills Season 11 reunion airs on Wednesdays at 8 p.m. on Bravo.
Source: Read Full Article