'Game of Thrones' Actually Should Have Won More Emmys
Last night, Game of Thrones was up for basically all the Emmys. The show nabbed 32 nominations in total, which was a record for the awards ceremony. When it came to the actual award-winning, though, they came up surprisingly short. Sure, they took home the Outstanding Drama trophy, and Peter Dinklage won yet again for his role as Tyrion Lannister, but that was basically it. And they got absolutely robbed.
Before you take to Twitter to absolutely roast me, hear me out. Yes, the final season of the history-making HBO show was rocky. Emilia Clarke had the very hard task of making Daenerys Targaryen look crazy practically overnight. One of the episodes was so dark it might as well have been in black and white. Gwendoline Christie was forced to pretend Brienne actually gave a shit about a man. And if you took a shot for every time Kit Harington said "I don't want it," you'd probably be blackout. There was a lot to complain about.
That said, all the complaints and rage-tweeting about Thrones season 8 overshadowed how incredible the first seven seasons were. Let's take a step back and look at this. Over 73 episodes, David Benioff and D. B. Weiss recreated a fictional world in which a million different storylines could work together as one cohesive (albeit complicated) narrative about the importance of family, power, and love.
Raise your hand if you cried when Jon Snow held Ygritte in his arms as she died, or when Hodor was screaming "Hold the door." That shit was emotional, and we got to go along for the ride. And I know damn well I wasn't the only one who legit jumped up and screamed when Arya Stark killed The Night King.
Plus, watching actors like Sophie Turner grow into their characters and give better performances as the seasons went on was half the fun. If you didn't shed a happy tear when she put on her crown in the finale, you're wrong!!
Even during the final season, when the internet seemed to be legit on fire because of how pissed everyone was, people couldn't stop watching. They were so invested in the characters and the stories that they didn't give up on them. And, to be fair, that final season wasn't just a season of TV. It was basically six feature-length movies back-to-back, which is an impressive feat in and of itself.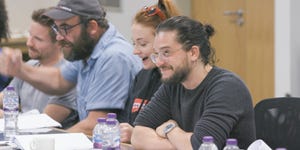 Game of Thrones was a totally unique viewing experience that united basically the entire world (or, at least it felt that way). But things are different here in the land of Peak TV. There's Hulu, Netflix, Apple TV+, Disney+, that NBC situation I refuse to call by its name, and literally countless other streaming services. Because there are so many shows, it's possible there will never be another one that brings people together quite like Thrones did.
Don't get me wrong, the competition at the Emmys last night was stiff. People like Julia Garner, Billy Porter, and Jodie Comer deserved to win in their categories. But on the other hand, it's a shame that Lena Headey never won an Emmy for her portrayal of Cersei Lannister.
It's almost like there needs to be separate awards: a set for the particular season of the show that just aired, and then a different set for the overall performance over time. Like a lifetime achievement award, but for one show or character. I know that's not technically how these awards work, but @Television Academy, if you're reading this, call me.
Yes, the final season of Game of Thrones was basically a dumpster fire of plot points, but the people who spent ten years of their lives making the biggest show on television deserved more recognition— coffee cups and all.
Source: Read Full Article