Saweetie Is Creating an Empire—One Icy Step at a Time
Saweetie is the definition of a boss. When she appears on Zoom, she is in full glam as her squad preps her for the day's remaining video interviews. But the rotation of lipstick touch-ups and passes of the flat iron through her sleek bob don't faze her; she maintains her signature Icy Girl persona throughout our conversation (which is ironic considering her warm, sisterly personality). But if you needed further proof of just how much she juggles on a daily basis, a casual scroll through her Instagram will show exactly how multifaceted she's become, with outfits of the day shot like editorials, memes she stars in, Icy University business courses, and Reels featuring millennial icons like Paris Hilton sprinkled between promo posts about her new singles. She's fully emerged as quarantine's Content Queen.
The 27-year-old rapper—born Diamonté Harper—is also gearing up to release her debut album, Pretty Bitch Music. With singles like the "Best Friend" earworm featuring Doja Cat, the uplifting breakup anthem "Back to the Streets" with Jhené Aiko, the laid-back "Pretty Bitch Freestyle," and the TikTok-approved "Tap In," fans are clamoring for more. And she's delivered: On April 16, Saweetie set the tone for the upcoming season with the release of her Pretty Summer Playlist: Season 1 EP featuring rising artists like Drakeo the Ruler and Bbyafricka.
Saweetie flourished during the ongoing pandemic, as she was able to completely focus on endeavors other than rap, whether it's transforming her Instagram into a viral treasure trove or partnering with brands like Quay Australia.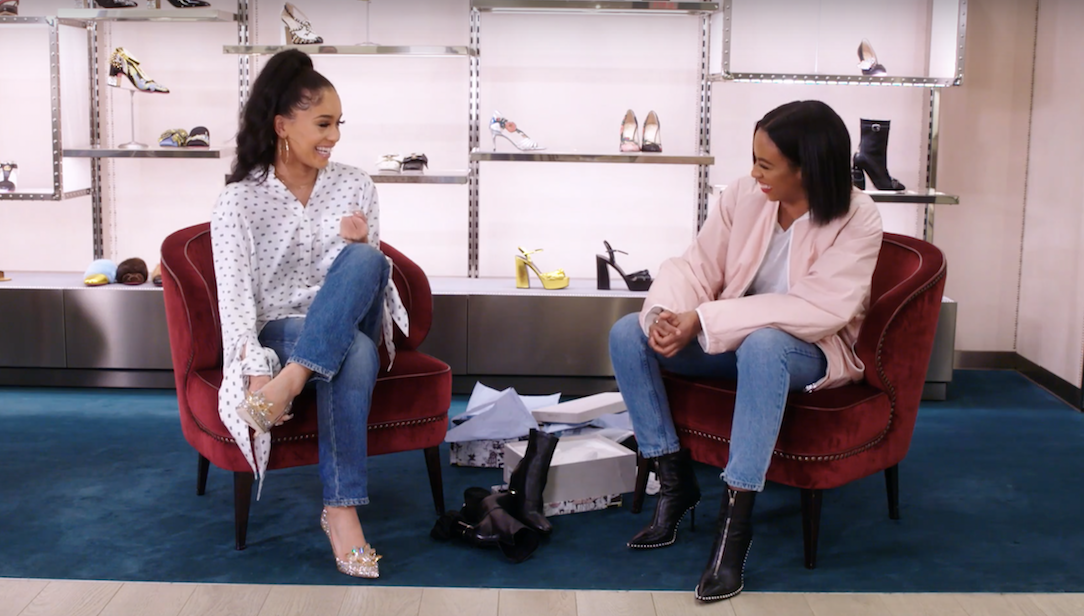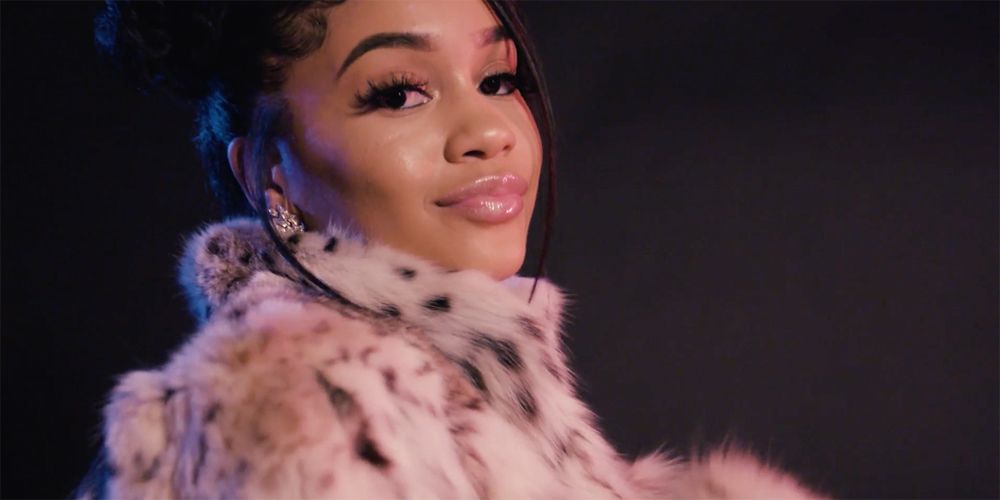 "I think it just goes to show you that I was being overworked, and I didn't have the time that an artist requires when they're first emerging. Like, I literally dropped 'Icy Girl' [in 2017], and then was just on the road nonstop," Saweetie tells BAZAAR.com. "I never had time to really sit down and breathe. So everything that I'm accomplishing right now in quarantine has just been on my wish list to do. So I'm really grateful for this time to just sit down, breathe, recharge, and kind of remap my career."
Focused on becoming a mogul, Saweetie is not allowing naysayers (whom she calls "annoying cousins") to deter her path. "I'm on my way to accomplishing so many greater things in life," she explains. "That's why I try to motivate through my music, through my brand, through my YouTube courses or reality shows. I definitely think that this journey is bigger than me. Once I realized that, it became so much more fulfilling."
Ahead, Saweetie shares what to expect from her upcoming album, her passion for creating content, and plans for expanding her empire.
You've blossomed into one of the new It girls during quarantine. We've seen you elevate your persona once again.
I really appreciate that observation, because I have to tell you: Everything that I do is with intention when it comes to business, music, and now fashion. Like my intention was to become an It girl. None of this is by mistake. I wrote this all down, and it's a part of my big-picture plan. So when you tell me things like that, it's just great reassurance for me and my team, because I wouldn't be here without my team. We have a lot of goals to accomplish, and we're really excited for what's to come.
Do you go through old magazines for inspiration?
Honestly, girl, I get my inspiration from everywhere. I'll literally go to the newsstand and just buy every cover that I think is interesting. And then, I'll also look up archive books from Saint Laurent and Gucci. One of my hairstylists—he's actually here right now—he laughs at me, because I literally be at the gas station. [Laughs.] I don't care if it's an old lady, a popping young girl or a little girl, I will take a picture of them from afar and be like, "I want my hair like this next." I see the world as a playground.
I want to talk about your mirror for a minute. It's such an innovative idea.
Thank you. So my best ideas come from in the middle of the night. I remember I had to do a promotional post for PrettyLittleThing as a part of my contract. I was like, "You know what? I don't want to do a basic in-house picture. How can I make this interesting?" So it was literally like two o'clock in the morning. I [thought], "The gas station always has good lighting. So I'm gonna take my mirrors to the gas station." [Laughs.]
https://www.instagram.com/p/CKGd20HMDv8/?utm_source=ig_embed&utm_campaign=loading
A post shared by @saweetie
I'm sure it has to be hard lugging that around everywhere. [Laughs.]
No, girl, it fits in my Birkin.
Do you have different versions of the mirror?
You know Dora's backpack, where everything kind of fits in it? My mirror just jumps into my Birkin and we go.
I know they're all your little babies, but is there a favorite Birkin?
ChiChi is the baddest. She's the peach-pink one, and she actually stole my car the other day and they went on a joyride. Yeah, girl, they some bad little kids. They're on time-out right now.
They sound so sassy! What has been your most favorite video content to produce? My personal favorite is with your Birkins.
My favorite would have to be the Friday skit, only because it let the acting industry know that I'm capable of acting. A couple of directors actually hit my management and was like, "Hey, we want her to audition for this and that, because she executed Friday so well." You saw me in three different ways at one time. It was such a good time, and I had fun shooting.
Would you say your communications degree has helped you figure out how to present yourself online?
I don't think [University of Southern California] taught me that. For one, one of my good friends is named Sabrina. Our dads grew up together, and we went to college together. She's my content manager now. So the ideas come from our minds, and I've always had a wild mind ever since I was a little kid. She helps me manage and create this wonderful content. But what I will say is USC helped me with just a whole bunch of invaluable skills that I don't think I would have acquired in corporate America or the street.
It taught me how to deal with different people, how to have patience with business, how to properly manage my time, because I do run my own business. It just taught me responsibility and communication skills, the psychology of interacting with people and how to prosper—especially in such an intense industry like music. Everybody knows USC is such a prestigious school, either you sink or swim. There's no in between. Fortunately, I was blessed enough to get through it and graduate.
A post shared by @saweetie
I watch your blog series on YouTube. A lot of celebrities try to keep a mysterious persona, but you break down those walls.
I just felt like it was my own way of allowing my fans to come into my world. To be honest with you, social media used to give me anxiety. I couldn't go on live before. I wasn't talking directly to the camera, and my fans would always be like, "Talk to us!" So I had to figure out my own special way that I was comfortable with. I'm happy that I did start this series so that people can see how much work, [me and] my peers go through. Like all the rap girls, all the music girls, we do so much behind the scenes, and no one sees it.
Honestly, I can see maybe Netflix or Hulu pick you up for a limited series.
Thank you, girl. We actually have some networks interested right now. We're just trying to see what's the right fit. Of course, when you join a network, there are some expectations they have as well. So I never want to lose the integrity of my reality show. I think a network [deal] in the future is definitely possible, and I'm definitely interested in that. So I'm happy you see that as well.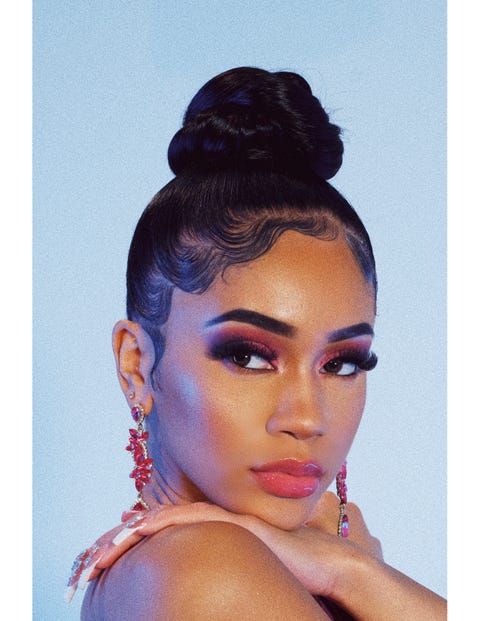 I know fans are holding onto their seats, waiting for the album. What can we expect?
Lots of samples. Make the people mad, girl.
I see people who say, "Saweetie relies on samples too much. Where's her original sound?"
I think greatness makes people uncomfortable. And I think people try to come up with excuses to not like me and to make themselves feel better about their life. I don't get as offended as I used to, because there was a point in time where I was dragged for, like, two years on social media. I was trending on Twitter for some bullshit every other day. I never defended myself, because I'm not really a social media pop off-er—I'd rather just pop off in person. So overcoming those obstacles and those negative viral tweets was just to work super hard. I'm gonna sample for the rest of my life; it's my specialty. Tons of people sample, but my samples just get the most recognition.
I'm not really a social media pop off-er — I'd rather just pop off in person
"Back to the Streets" has you singing a little bit more, and "Best Friend" shows more of your sassy side. Are there any other new sides of Saweetie on this record?
What I will say is I really appreciate your analytical observations, because those are the exact intentions that I had behind each song. You could definitely expect just more versatility. A lot of people don't know this, but I grew up with a speech problem. So sometimes, it takes me a little longer to deliver my raps, because my mouth just does dumb shit sometimes. [Laughs.]
Was it a speech impediment or a stutter?
I used to have a stuttering problem. My mom was really concerned for me. But she actually trained me to stop doing that. I would just think quicker than my mouth could talk. There's this record that I really want to nail, to rap really fast. So that's something that I'm practicing every day. There's certain things that I don't discuss that have hindered me. But you know what? I love a challenge, and I think how you overcome the hurdle is more important than how it affects you.
I was reading an interview where you said that you looked up to Kimora Lee Simmons. Can we see a fashion line in the future?
Definitely. I'm actually working to find the proper manufacturers for it. I think it's going to house streetwear, high-fashion lingerie, pajamas, house clothes. I'm basically gonna put all of my favorites that I wear on a day-to-day basis into this fashion line. But there will definitely be an affordable line and also a high-end line. But I'm a strategist, so I got to figure out when is the right time to put it out.
What's the update with your lip gloss line?
It's actually done already. My team is really small right now, so we're trying to figure out who's going to help us create the whole line, because there's only so much my day-to-day team [can do]. We're looking for the perfect partner right now.
Now that you're into fashion and beauty more, what are some things that you've learned?
Something that really opened my eyes to the fashion world is quality. Even with my artist merch, there were a couple of tweets that went viral about, "Saweetie's merch line is too expensive." But the reason why is because it's cut-and-sew. The fabric is thicker. So this is not something where you're going to wash it in the washing machine, and then it fades or the picture disappears. I want my fans who are, like, 70 to have a T-shirt from 2021 and be like, "Dang, this looks really good. The quality really held up." … I always make sure that the quality always matches the price point.
What are some goals that you want to accomplish as the Icy Girl for the rest of the year?
For me or for someone who is trying to be an Icy Girl?
Let's do both: your goals and some things that you think Icy Girls should strive for.
Icy is more than [being] pretty, it's more than face value. That's part of the Pretty Bitch Music campaign. If you're a real Icy Girl, it starts with your mental, your will to be ambitious, your will to be great in life. Eventually, if you work hard, then the materialistic stuff comes with it. So I think a real Icy Girl focuses on her mind first, rather than the materials of the world. Like, it's not always about the jewelry and the diamonds. It's how you carry yourself, how you hustle, and how you're handling your business. Then, when it comes to what I want to accomplish, I want to dominate everything: business, fashion, music, acting, philanthropy.
I see myself as a young mogul, and I have a great team around me.
I really feel like my brand is expanding beyond music. I see myself as a young mogul, and I have a great team around me. I'd love to have a number one album. I'd love to debut on a big—I mean, they don't have Blockbuster no more [laughs]—but on Netflix or even Hulu, because they are considered huge streaming platforms that can compete with the theaters. Then, launching my beauty and fashion line. Also just being happy, healthy, and getting enough sleep to make sure that I'm able to always execute. 'Cause I was at a time where I wasn't getting any sleep and the work was not working, because I wasn't showing up mentally.
Comparing the Saweetie that was freestyling in her car a few years ago and looking at you now as you're in glam, you've become such a star.
Honestly, I pity her. [Laughs.] She just knew nothing. I love to learn, and there's just so many things I didn't know in the beginning that I wish I knew. Well, everything works for the greater good. But this life isn't for everybody, especially when you want to be a one-percenter—and I'm going to be that.
This interview has been edited and condensed for clarity.

Source: Read Full Article