Elton John Puts Dallas Shows on Hold After Testing Positive for COVID-19
When revealing his diagnosis, the English star makes it clear that his 'symptoms are mild so [he's] fully expecting to be able to make the Arkansas shows this weekend.'
AceShowbiz –Elton John has been forced to take a break. Revealing that he has tested postive for COVID-19, "The Lockdown Sessions" hitmaker informed his online devotees that he decided to postpone his shows in Texas.
The 74-year-old English star broke the news via Instagram Story on Tuesday, January 25. "Hi everyone, wanted to send a message to let you know that I have contracted COVID and so have had to reschedule my shows in Dallas," he began his message.
"If you have tickets, you'll be contacted with the new dates really soon," the singer/composer further explained. "It's always a massive disappointment to move shows and I'm so sorry to anyone who's been inconvenienced by this but I want to keep myself and my team safe."
Elton went on to make it clear that he's "fully vaccinated and boosted" and divulged that his "symptoms are mild so [he's] fully expecting to be able to make the Arkansas shows this weekend." The "Cold Heart" hitmaker concluded his statement by thanking his fans, saying "As always, thank you for all your love and support and I can't wait to see you all soon!"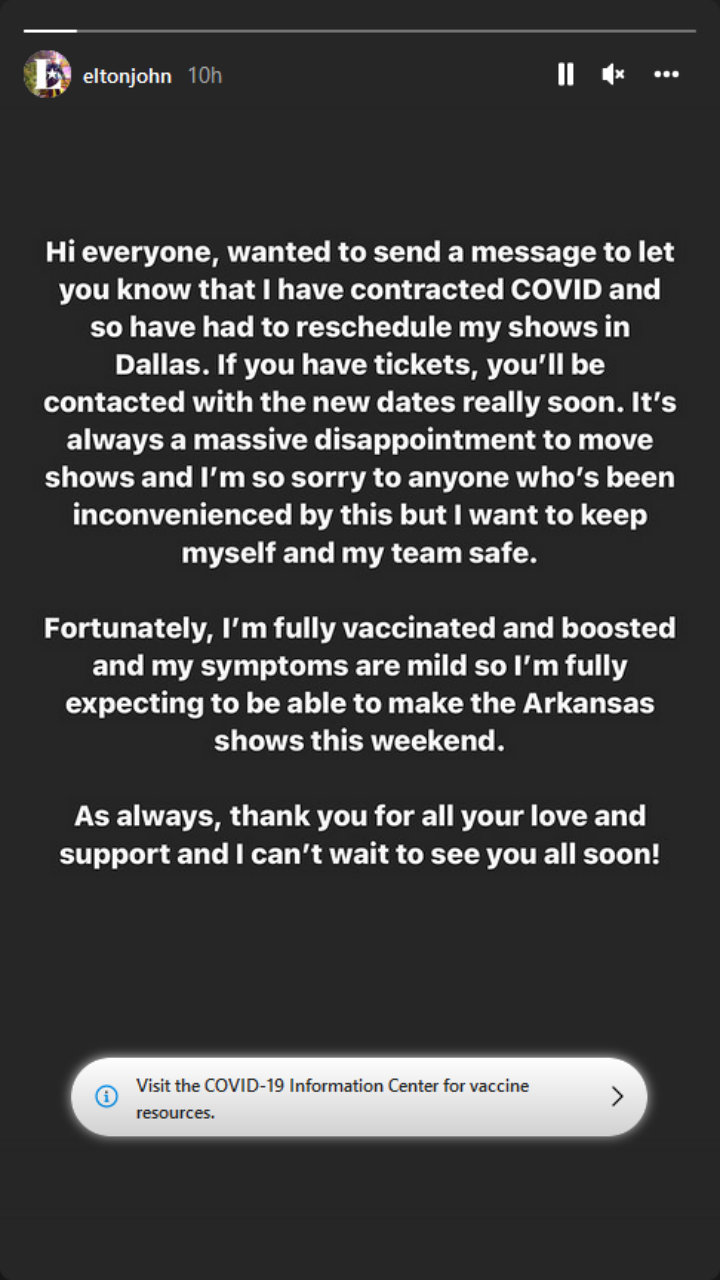 Elton John announced he postponed his Dallas shows after contracting COVID-19.
Elton was supposed to perform at the American Airlines Center in Dallas on Tuesday and Wednesday. He kicked off his rescheduled 2020 North American tour on January 19 in New Orleans and was set to make stops in Houston, Chicago, Detroit, Toronto, New York and Miami.
In September 2021, the musician announced that he postponed dates of his "Farewell Yellow Brick Road" tour until 2023 after suffering a fall. "It is with great sadness and a heavy heart that I am forced to reschedule the 2021 dates of my Farewell Yellow Brick Road tour in Europe and the UK to 2023," he said. "At the end of my summer break I fell awkwardly on a hard surface and have been in considerable pain and discomfort in my hip ever since."
"I have been advised to have an operation as soon as possible to get me back to full fitness and make sure there are no long-term complications," he added. "I will be undertaking a programme of intensive physiotherapy that will ensure a full recovery and a return to full mobility without pain."
Source: Read Full Article