Shay Mitchell Bares Her Baby Bump in Itty-Bitty Bikinis on Italy Trip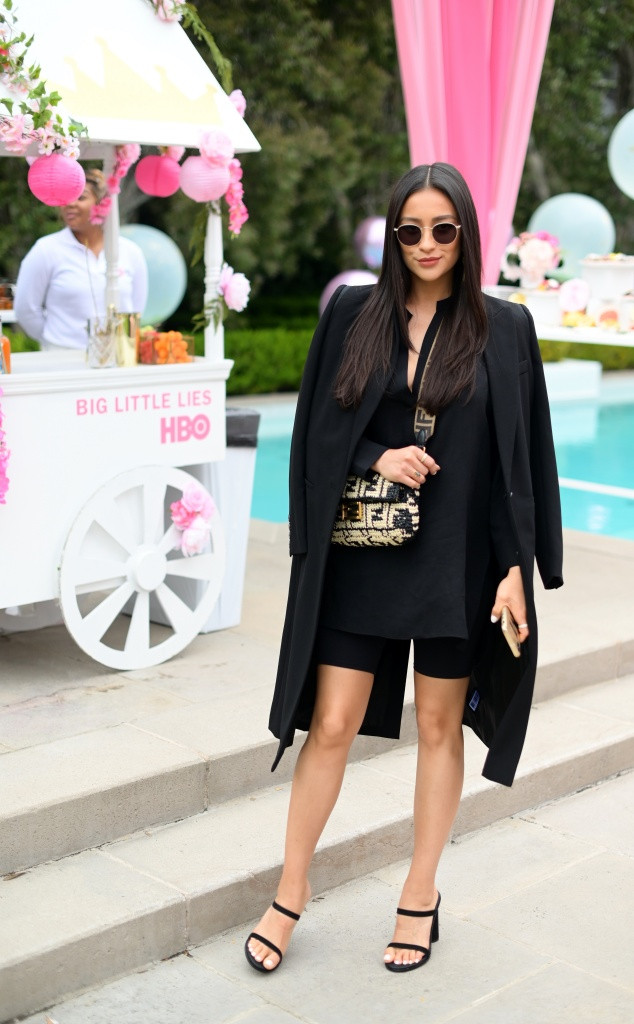 Matt Winkelmeyer/Getty Images for HBO Big Little Lies
Shay Mitchell is living her best life!
The Pretty Little Liars star, who recently announced her pregnancy in a surprise and highly-stylized Instagram post, is officially on vacation mode. Currently, the brunette beauty is feeling "beached" while vacationing (for two) in Italy with gal pal, Alex Merrell.
"I swear it isn't mine," the DJ jokes on the 'gram, alongside a photo of her and the 32-year-old actress showing off her growing bump. "But are you sureeee???," Shay teases in response to her friend's caption.
In the cheeky picture, the two don matching striped towels wrapped around their heads and large black sunglasses. The You star opts for a mustard-colored bikini while Merrell wears a spicy orange number. Trés chic!
It's clear the Canadian native is enjoying her glamorous trip across the pond. On her personal social media account, she posted a breathtaking image of her baring her baby bump in an itty-bitty blue bikini.
"BEACHED," she simply wrote, as she overlooked the stark blue ocean. As the saying goes, pics or it didn't happened, right?
View this post on Instagram
I swear it isn't mine.
A post shared by A L E X M E R R E L L (@alex.merrell) on
Just last week, the Pretty Little Liars star surprised her fans and followers after sharing the special news that she and boyfriend Matte Babel were expecting their first child together.
The 32-year-old actress announced the news with an ultra-glam photo that she uploaded on social media. And in true Shay fashion, she captioned her pregnancy post with a hilarious caption, "Does this mean I'm allowed to drive in the car pool lane at all times now?"
On a more serious note, she released an emotional YouTube video titled "Guess Who's Preggers," where she explained her reasoning for hiding her baby bump for so long. "When you're in the public eye, there are some things you want to just keep a secret until you feel ready," she said. "This, for me, has been the hardest. This is gonna be really fun and awesome when I'm not trying to hide it anymore."
She continued, "This is real life, and I want people to come along with me."
Now that the cat is out of the bag, the brunette beauty seems to be enjoying her pregnancy journey and sharing it with the rest of the world.
Source: Read Full Article