How Ellen DeGeneres Ended Up In Taylor Swift's Music Video
Taylor Swift dropped her new music video last week, and all we can say is, "WOW!" The over the top video was star-studded and drenched in vibrant colors, perfect for summer.
From its get up and dance beat to its stop the hate message, You Need To Calm Down is already climbing the charts. It's sure to be the next big LGBTQ anthem for anyone supporting PRIDE, GLAAD, and love for all.
While there was a lot of speculation about this video, fans were still surprised about all the stars that made an appearance. Even Ellen DeGeneres took a break from her busy schedule to make a cameo.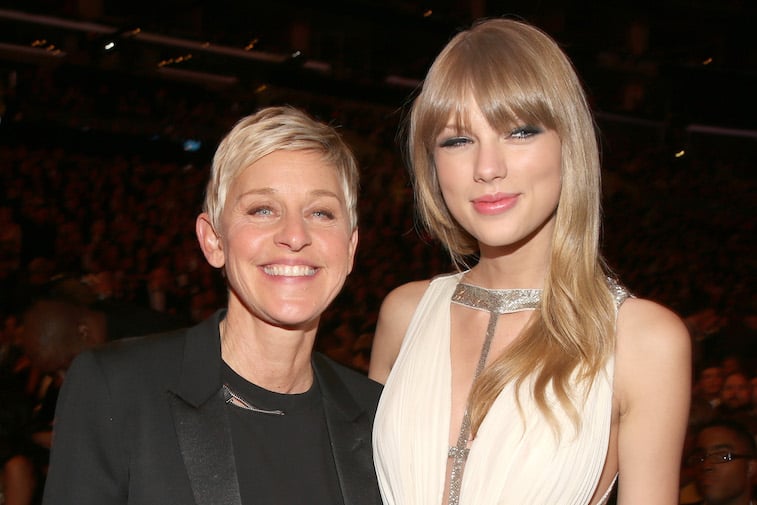 Taylor Swift: 'You Need To Calm Down'
As promised, Swift has released her second single from her new album, Lover. Like the first single "ME!" we see her trademark pop sound, mixed with strong lyrics about love. While she has been the center of much drama in her career, this video might be telling us she is over it.
The bright colors in You Need to Calm Down, seem to be a sign that she is done with shade and all people throwing it. Swift also invited a lot of people who know all too well what it's like to live in other people's shade.
It all takes place at one of the prettiest trailer parks we have ever seen. They come out in bright light and colors to sing and dance in front of their haters. Even Tan France from Queer Eye pours tea down his throat as a nod to sippers.
Make sure you don't blink, or you might miss Ellen as she squirms her way through a large forearm tattoo. How did she end up in Taylor Swift's music video anyway?
How Ellen DeGeneres ended up in Taylor Swift's music video
About a month before the release of You Need to Calm Down, Taylor Swift was a guest on The Ellen DeGeneres Show.
During the interview, Ellen asked when the next video would be out, and Swift said, "Yeah, we need to finish it first." Ellen replied, "I think you said you wanted me in it." Taylor Swift answered, "Yeah, I mean that would be a dream. Would you want to do that?" Ellen jokingly said, "Hmmm, I don't know."
Obviously, the audiences thought that was funny. We know now that Ellen did make her way into the video. She can be seen getting a tattoo from Adam Lambert that reads "Cruel Summer."
They also spent much of the interview talking about foreshadowing and Easter eggs, so this interview was likely its own Easter egg, hinting at what was to come.
Other celebrities featured in the video
The music video starts out with Taylor Swift alone in her trailer. The space is eclectically decorated with what many assume can only be Easter eggs and nods to her future and past work.
As she wakes up, singing, of course, she starts to make herself some sort of cotton candy martini, before grabbing her pink fur coat and heading out to the pool. Throughout the entire video, there are countless celebrities making an appearance.
Most celebs are outspoken advocates for equality or a part of the LGBTQ community. Rupal judges a drag competition, Halley Kidoko shoots arrows, Laverne Cox waters her garden, and Ryan Reynolds paints the scene.
The one thing more surprising than Ellen DeGeneres ending up in the video getting ink was Katy Perry's surprise cameo. That's right; Perry showed up just in time for the food fight. She was dressed as a cheeseburger, and Swift was the fries. How perfect is that?
They even hugged it out, telling the world, that T-Swift is officially done with shade.
Source: Read Full Article