Every Movie Trailer Released for Super Bowl LVII (So Far)
The studios are returning to the Big Game in a big way in 2023.
While most will be tuning into the Super Bowl to watch the Kansas City Chiefs face off against the Philadelphia Eagles — and Rihanna's halftime show, of course — the commercial breaks will also be providing entertainment with some major movie trailer releases.
Like some of the star-studded ads, some of the trailers will make their ways online before Super Bowl Sunday … while others will debut during the big game, before longer versions post online after.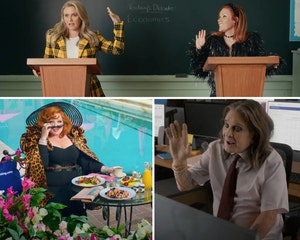 Every Must-See Commercial for Super Bowl LVII (So Far)
This year, Warner Bros. is reportedly planning to drop a new trailer for "The Flash," while Disney will drop fresh looks at "Ant-Man and the Wasp: Quantumania," "Guardians of the Galaxy Vol. 3," "The Little Mermaid" and Pixar's "Elemental." There could also be new footage from "The Marvels" and "Indiana Jones and the Dial of Destiny."
Universal plans to drop a new "Fast X" trailer on Friday, while a teaser for Paramount's "Transformers: Rise of the Beasts" are also coming.
Paramount and Spyglass actually kicked off the new trailer debuts Wednesday, by dropping a game day spot for "Scream VI." The new footage highlights the series' move to New York City, the return of Hayden Panettiere, Jasmin Savoy Brown in peril and Jenna Ortega planning to set a trap for Ghostface. The studio also announced a 3D fan event screening on March 9, ahead of the March 10 opening.
We'll update this post with all the teasers as they drop!
Unable to render YouTube Video.
Source:
Read Full Article