Ben Affleck Debuts Jaw-Dropping New Look in Hilarious Video With Matt Damon
Ben Affleck and Matt Damon teamed up with Omaze, and the Argo star debuted a totally new look in the promo. Watch the video here to see the transformation.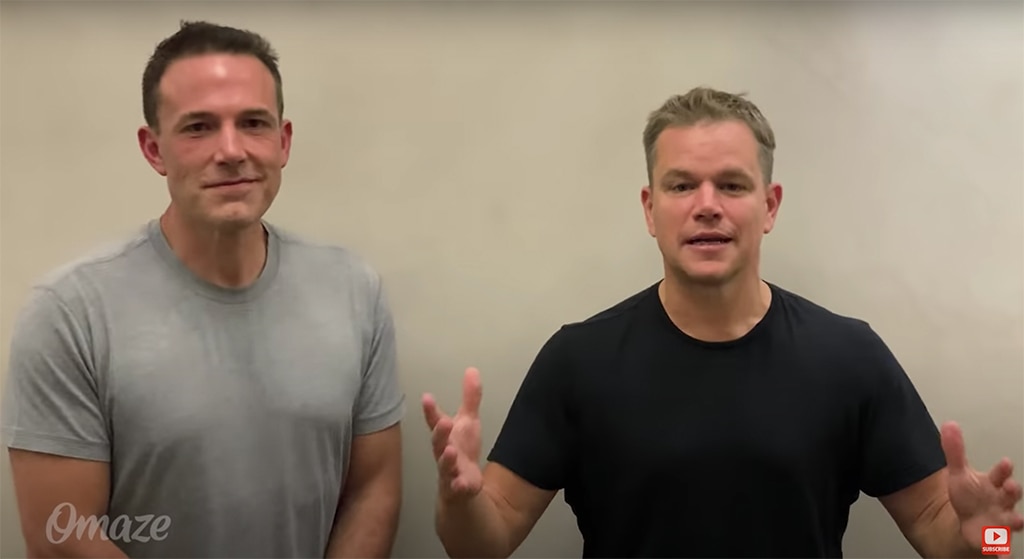 Ben Affleck is sporting a new look. 
The 48-year-old actor debuted his freshly shaven face in a video with Matt Damon. The Argo star looked totally different with his clean-cut appearance and wore a form-fitting T-shirt that showed off his physique.
The Good Will Hunting stars teamed up with Omaze to offer one lucky winner the opportunity to travel out to Los Angeles and have lunch with them. Although, the longtime pals couldn't agree on who would be picking up the tab. 
Affleck also didn't seem too happy with Damon's performance in the promo. "You gotta spice it up. You gotta make it appealing," he told the 50-year-old. "Like right now, no one wants to come have dinner with this guy. Let's do another take and, like, sell it; push it."
Although, the second, third (or even fifth take for that matter) didn't get much better. "Dude…don't be weird," Affleck said. "Human beings don't behave like [that]. You have to be authentic." 
The duo said the winner could ask them questions about all sorts of topics, including, as Damon teased, "roles that we've played that maybe other people have played too to winning effect."
"Tell them something they're interested [in]," Affleck argued. "'Hey, come see Jason Bourne or Batman.'"
Damon then couldn't resist taking a friendly jab at his fellow Oscar winner and asked if Robert Pattinson, the star of The Batman, is coming. Affleck quipped back, "No, Jeremy Renner will be there though." 
However, Damon wasted no time pointing out that Renner, who starred in The Bourne Legacy, didn't play Jason Bourne and that he simply "expanded the Bourne universe."
But Affleck trolled him and said, "He improved on it."
Still Damon didn't back down, arguing, "Pattinson took a job."
Trending Stories
Cardi B Responds to Claim She's in a "Mentally Abusive Relationship"
Lily Collins Revealed Emily in Paris' Age—and It's Confusing
Cameron Diaz Perfectly Reacted to Nicole Richie as Her Sister-in-Law
All jokes aside, the initiative supported good causes. Entries made through donations will support both the Eastern Congo Initiative and Water.org. The BFFs made it clear that anyone could enter the contest, including those who were less familiar with, as Damon put it, the "interweb." Affleck then asked him if he even had an Instagram account.
"I have a private account," Damon said with a laugh. 
Affleck confirmed he had a "fake" Instagram account, as well. "Finsta," he said. "That's what the kids call it."
To look back at their friendship throughout the years, check out the gallery.
Damon and Affleck share a scene as troubled genius Will and his devoted childhood pal Chuckie in their breakout hit Good Will Hunting, which was nominated for nine Oscars, including Best Picture, Best Actor for Damon, Best Supporting Actor for Robin Williams and Best Original Screenplay.
Awards season heats up in 1998 as Ben and Matt walk the carpet at the Golden Globes, celebrating Good Will Hunting's four nominations.
Affleck and Damon pose with their first Golden Globes, Best Screenplay for Good Will Hunting. Affleck won another, in 2013, for directing Argo, and Damon won in 2016, Best Performance by an Actor in a Motion Picture, Musical or Comedy, for The Martian.
Best Original Screenplay winners Affleck and Damon make sure to give a shout-out to their formative hometown, which helped inspire the first-ever movie they wrote together, Good Will Hunting.
Damon and Affleck relish their Oscar win in 1998.
Affleck and Damon show off their Oscar night dates—moms Chris Affleck and Nancy Carlsson-Paige—in 1998.
Damon and Affleck teamed up as fallen angels Loki and Bartleby in Kevin Smith's 1999 comedy Dogma.
Matt and Ben dress down in Miami Beach in 2006.
Damon supports his buddy in 2006 at a screening of Hollywoodland, in which Affleck played George Reeves, the tragic actor who played Superman in the 1950s-era TV series.
Both pals got married in 2005, and in 2008 they enjoyed a night out all together in Miami Beach. Affleck and Jennifer Garner, who have three children together, split up in 2015 and eventually divorced in 2018. Damon and wife Luciana, parents of four daughters, will celebrate 15 years of marriage in December 2020.
Matt and Ben hang out, 'cause that's what they do.
Naturally, Affleck was among the stars who feted (and roasted) Damon while presenting him with the American Cinematheque Award in 2010.
"I kind of started out at the same time as the guy, so this is a special night for me, too," Ben quipped.
They always look ready for a marathon poker tournament.
The chums celebrate the return after 10 years of Project Greenlight, their HBO series about bringing indie films to fruition, in 2014.
Affleck is on hand to support brother Casey Affleck and honorary brother Damon at the 2014 premiere of Manchester by the Sea, which Affleck and Damon co-produced and for which Casey would go on to win the Oscar for Best Actor (and forget to thank Ben, which turned into a whole funny thing).
Affleck and Damon are on hand to support Project Greenlight's season four winner, The Leisure Class, at the film's 2015 premiere.
Affleck and Damon reprised their roles as Chuckie and Will for a live reading of Good Will Hunting in 2016, and enlisted some of their talented friends to sit in, including John Krasinski, who narrated; Emily Blunt playing Skylar; Keegan-Michael Key as Billy; and Margo Martindale filling the mighty shoes of the late Robin Williams as Dr. Maguire.
Damon celebrates Affleck landing the Caped Crusader cowl in Batman v. Superman: Dawn of Justice and ensuing DC Universe films, 20 years after both actors auditioned for and didn't get the role of Robin back when Tim Burton was making Batman movies. (The sidekick eventually showed up in Joel Schumacher's Batman Forever.)
Affleck and Damon reunite at the Oscars in 2017 to present the Academy Award for Best Original Screenplay, 19 years after their momentous win.
And here they are looking as amazed as anybody to see that Moonlight was the actual Best Picture winner instead of La La Land.
Matt and Ben enjoy a night out with fellow Boston sports nut Bill Simmons.
The lifelong Red Sox fans got emotional celebrating their team's 2018 World Series title.
Source: Read Full Article