8 Best E-Readers For Book Lovers In 2021
Some people collect stamps, jewelry, or cars. Me? I collect books. I assume my love of all things literary came from a few too many Beauty and the Beast viewings as a kid. That library with its spiral staircase and shelves and shelves of books was truly sickening—in the absolute best sense of the word. Having always dreamed of owning a collection that rivals Belle's trove, I was hesitant to join the ranks when I saw these newfangled e-reader devices like the Nook and Kindle pop up. Buying a Kindle felt like cheating on my precious book collection—most of which I haven't even read yet. And what about that new book smell?
But here's the thing: My apartment is approximately one-third the size of Belle's castle library, and until I have the (thousands? millions? billions?) of dollars necessary to purchase a French chateau, a gal's gotta improvise. Enter: the e-reader. I am a 21st-century woman who requires a 21st-century device! If you can relate, you'll be as happy as I was to learn that the e-readers available in 2021 are chic AF, small enough to fit just about anywhere, and equipped with next-level tech. I mean, who needs a reading lamp when your screen *automatically* adjusts the light to match your setting?
Plus, I'm no longer in pain from holding up my gigantic books for hours on end. (I mean, Isabel Wilkerson's Caste clocks in at almost 500 pages and when I'm up late reading, as I often am, my wrists hurt!) And while this certainly won't replace the feeling of perusing your local bookstore, you will feel pretty darn excited hitting that download button and seeing your new book pop up in 30 seconds or less.
If you're a book lover or know someone who is, you're gonna want the e-reader hookup—trust me. These 8 products are top of the line, road, er, read-tested by online reviews (ha!), and will make you feel like you're reading in the future: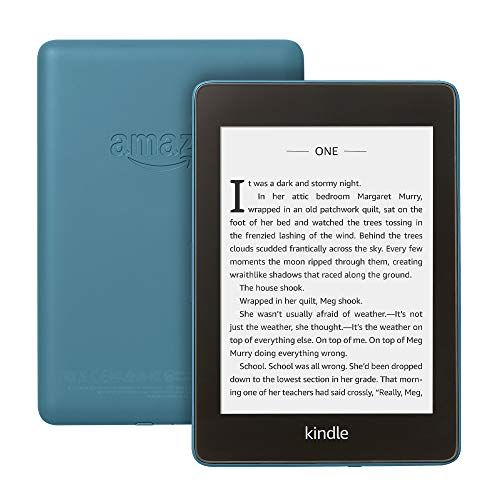 I, and most modern historians, consider the Kindle "the e-reader that started it all" because, well, it did. Fine-tuned over multiple generations, it's still a safe bet and can be delivered at record speeds, thanks to Amazon Prime.
Lucky for the 2021 reader, Kindle has a few new versions, including the Kindle Paperwhite. It features a glare-free display and a new waterproof design (music to my pool float and White Claw-loving ears!). The newest version boasts 32 GB of storage to hold more magazines, comics, and audiobooks. Oh, and it comes in fun new colors—twilight blue, sage, plum, or the traditional black.
Plus, you can even pair your wireless headphones to this device to listen to all of those audiobooks you've been saving. No need to worry about charging this e-reader—one battery charge lasts weeks. The product's built-in adjustable light makes it easy to read indoors and outdoors, day or night.
Rave review: "I am an avid reader and adore the new paperwhite! To me, it's the perfect reader. No light bleeds through, and it's easy to control the amount of backlight, easy to download books and simply just easy to read my books."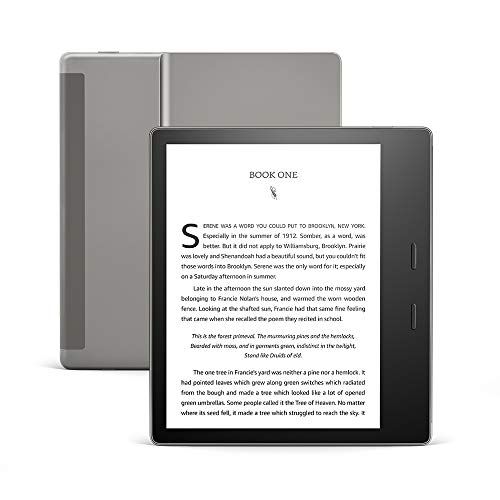 The Oasis is another new Kindle rollout with alllllll the bells and whistles. Adaptive lighting that changes based on your environment? Check! Warm amber light to protect from that bluelight glare? Check! Automatic screen rotation? Check! Gigs on gigs on gigs of storage? Check, again! Though this e-reader comes in at a slightly higher price point, you're getting the top-of-the-line tech to help your weary little eyeballs.
It's also waterproof and has the same headphone pairing ability as the Paperwhite. You can choose your font and size, which is great for a nerd like me, or anyone who likes their words a little larger on the page. Plus, the graphite and champagne colors look quite chic.
Rave review: "I have always been of the belief… if you are willing to pay a bit more for a product—and as long as you use it regularly, it's worth every penny. I am fortunate to have bought this new Oasis with a generous birthday gift card from my wife. My early impressions are WOW. The 7 inch screen makes a huge difference. This Kindle is perfectly made with the reader who holds it in hand while reading in mind."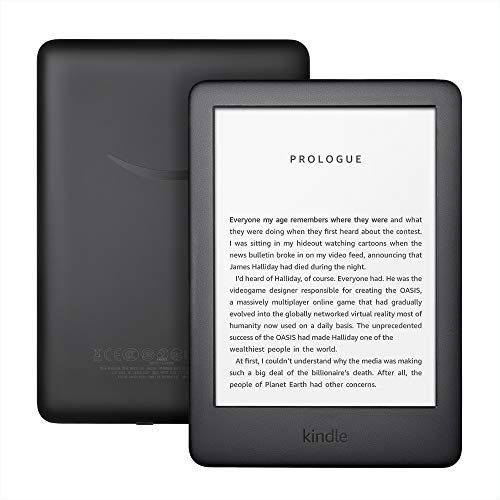 If you're looking for a more affordable option that gets the job done, the OG Kindle is for you. It doesn't have all the whozits and whatzits galore of other e-readers, but it did pave the way with its "purpose-built" 167 ppi glare-free display that reads like real paper for the authentic book vibe you know and love, even in direct sunlight. Plus, it's thin and has adjustable screen lighting—what more do you need, really?
Rave review: "I held on to my first-gen touchscreen Kindle for a long time because the Paperwhite and Oasis upgrades had more features than I need… So I jumped on this new lighted version of the basic. Pleasantly surprised with the lighted screen, battery life (I read in Airplane mode), and smaller overall size with the same screen size. If you're looking for a way to carry your books with you everywhere you go, this is the best deal."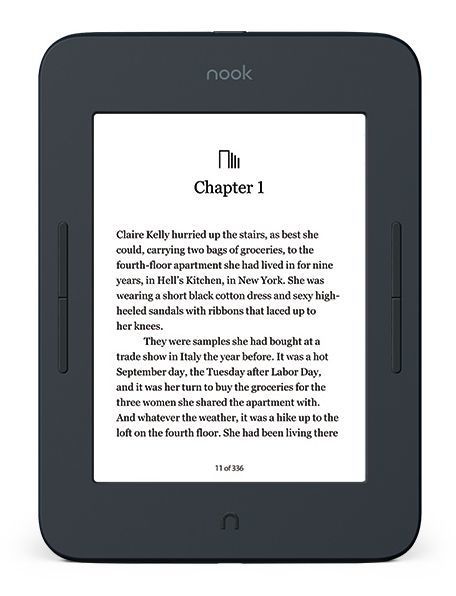 Ah, the Nook. I remember when I first saw this device, perched elegantly in the lobby of my go-to Barnes & Noble. I was probably on my way to pick up the newest Twilight book (#TeamJacob) or something equally as embarrassing. But, like me and my flat-ironed side bangs, this gadget has gotten many upgrades since 2009. It holds thousands of books, has built-in WiFi, transitions easily from daytime to nighttime reading with automatic lighting shifts that mimic the sunlight throughout the day and into "Night Mode." Plus, you get 50 days of reading with just one charge.
Rave review: "I'm still a fan of the Nook! It has taken many hits along the way while I travel and is still my go-to at home and abroad. I don't fear sand or rain – and get far less eye strain than any LED screen."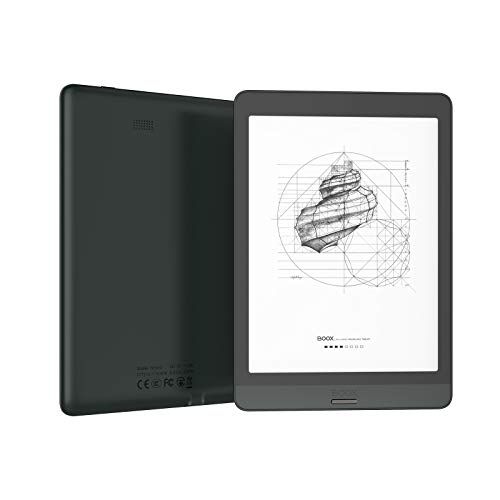 This e-reader features a big 7.8-inch screen and protective glass, which is great news if you drop your iPhone 15 times a day like me. The device comes with built-in WiFi —score!— and Bluetooth capability. This is great for students and business people alike, as you can easily access PDF files and mark them up on the touch screen. Need an e-reader that can handle both work and leisure time? You've found it.
Rave review: "I've been using e-readers from before anyone heard of them. Tried them all… The Android 10 based Boox Nova 3 has the whitest background I've ever seen along with the sharpest print imaginable. Because it's Android I can read books from pretty much any bookseller, including Amazon, BN, Kobo, etc. You can fully control the refresh rate and almost everything else. BTW, it comes with a pen to jot down handwritten notes on any book or blank page. Very impressed to say the least."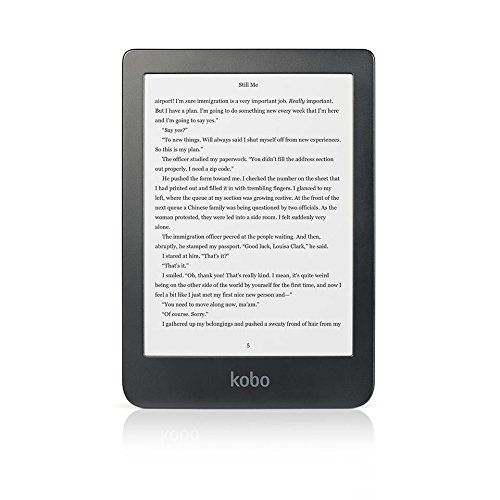 There's a lot to love about the Kobo Clara e-reader. It's lightweight, with a 6-inch glare-free screen that you can easily toss in your purse or work tote. The screen is designed to look like, well, a book—so you can read it in the sunlight, just like regular ole paper. They offer 50 font sizes, 12 font types, and adjustable margins. But the big seller? Accessing e-books from public libraries (a.k.a. FREE BOOKS!) through apps like Overdrive is a cinch with this e-reader.
Rave review: "I bought this e-reader when our library temporarily closed due to the pandemic. I was panicking because I am totally hopeless with technology but really needed my books. This e-reader is VERY easy to set up. I did it in 5 minutes, which means anyone can do it. It already has Overdrive loaded onto it (the app for borrowing from the library). It is really user-friendly, small, and lightweight."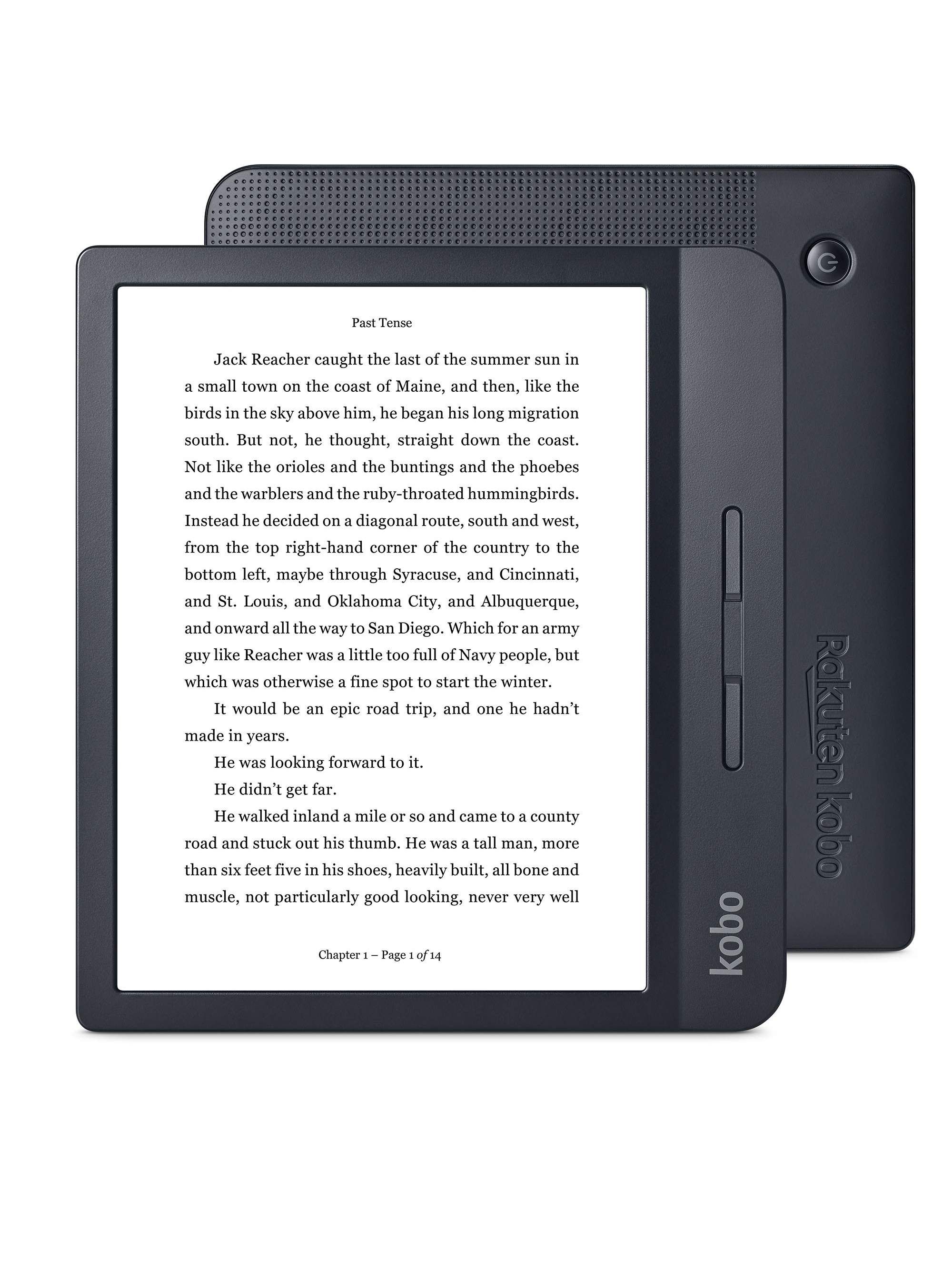 This product allows readers to go weeks without a charge, and can store around 3,000 books—yay! The KOBO Libra H20 also allows for screen rotation, so you can flip it to landscape while lounging (a major plus for any beach bum). Also great for beach lovers? This device can last up to 60 minutes underwater. Well, okay then!
Rave review: "This e-reader is just as good as Kindle Oasis if not better! You have the luxury of reading library books besides Kobo/Walmart books which I might add is a huge selection and affordable and a lot of free ones. It is easy to hold and lightweight and I enjoy using the physical turn buttons and also like the page orientation that enable left handers to use. The cool light is very bright and can easily be adjusted and the warm light for night reading can be set automatically to time to turn on. You can save $80 and have no regrets."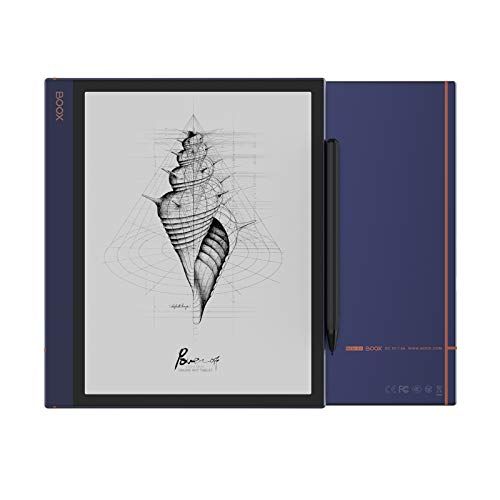 The Max Lumi is what you might call the Porsche of e-readers. It has a 10.3-inch screen, as well as lighting support that allows you to read, write, or draw in the dark without straining your eyes. This is perfect for anyone looking to view documents with graphics or diagrams, in addition to their regular reading. The battery lasts about a day, which is less than some of the other options on the market, but the Note Air boasts built-in Wi-Fi and excellent screen quality for sketching. It's also a bit heavier—weighing about two pounds.
Rave review: "I usually spend a lot of money each month on books and printing materials for news articles, scientific papers, you name it. Being able to annotate and 'hold' documents helps me to focus and collect my thoughts, so this device was quite appealing to me. In the time I've had this (less than a week) I've torn through two books, multiple essays, and started drawing again… at this pace I'll likely break even by early next year!"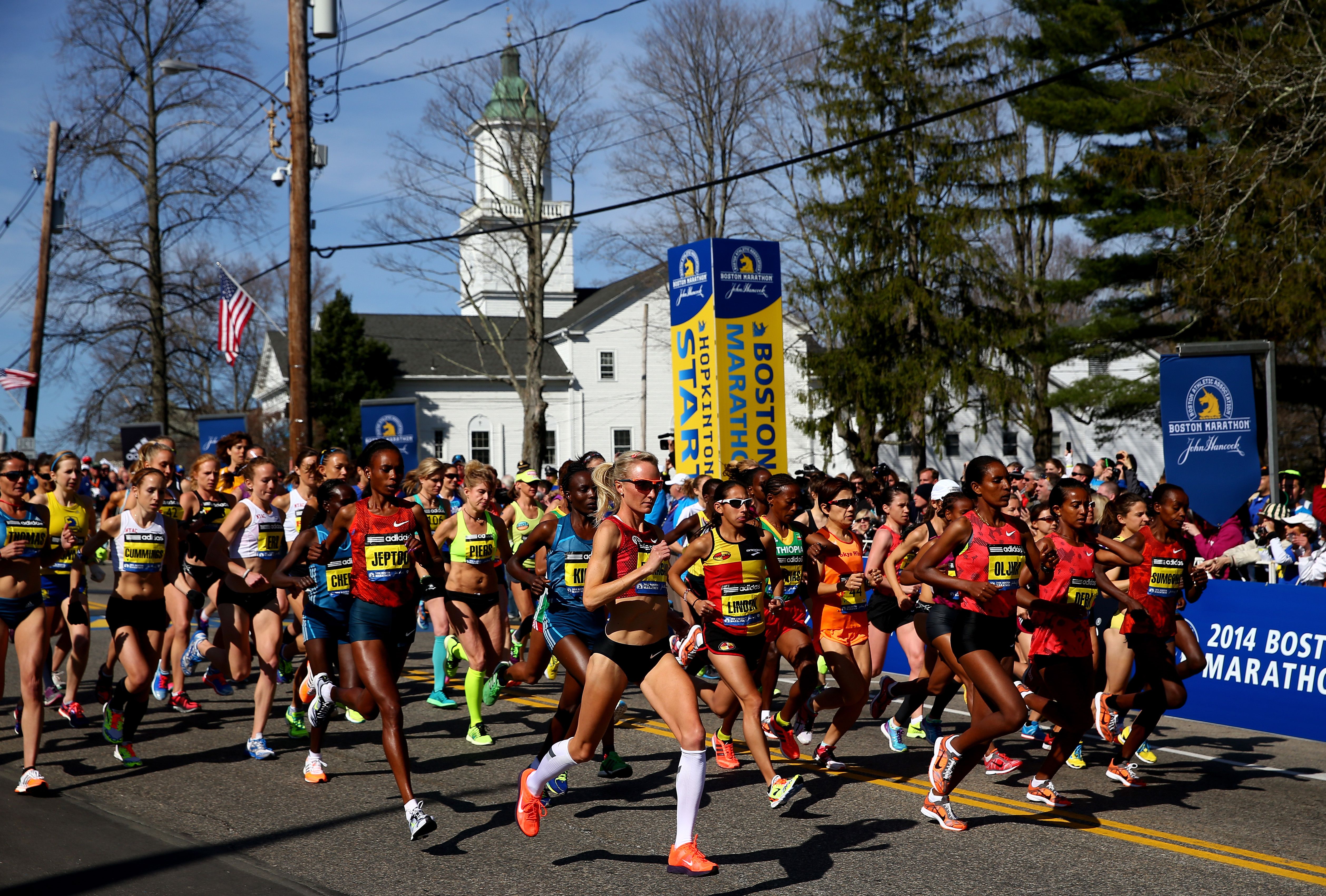 Source: Read Full Article