4 Details About Jim & Pam's Wedding On 'The Office' That Are Too Cute
It's been ten years since everyone's favorite TV couple, Jim Halpert (John Krasinski) and Pam Beesly (Jenna Fischer), tied the knot in an unforgettable hourlong episode of The Office. It seems like the wedding was only yesterday, and you might have actually watched it only yesterday if you're anything like the millions of fans who re-watch The Office on Netflix constantly. But, no matter how long it's been since you last checked in with the folks of Dunder Mifflin, you'll appreciate these adorable details about Jim and Pam's wedding on The Office.
In honor of the tenth anniversary of the wedding episode, title "Niagara," a few key people from The Office talked to Entertainment Weekly about it. The team behind the hit NBC comedy offered some behind-the-scenes details about one of the biggest episodes the series ever produced. They even shared how the wedding could have ended every differently thanks to horseback ride off Niagara Falls.
Originally, Pam's Ex Was Going to Show Up on A Horse
Big interruptions are a big part of lots of TV wedding episodes, and originally The Office was going to feature one. Before Jim and Pam got together, Pam was engaged to Roy (David Denman), and the original draft of the "Niagara" script had him making one last play to win her back. Episode director Paul Feig said: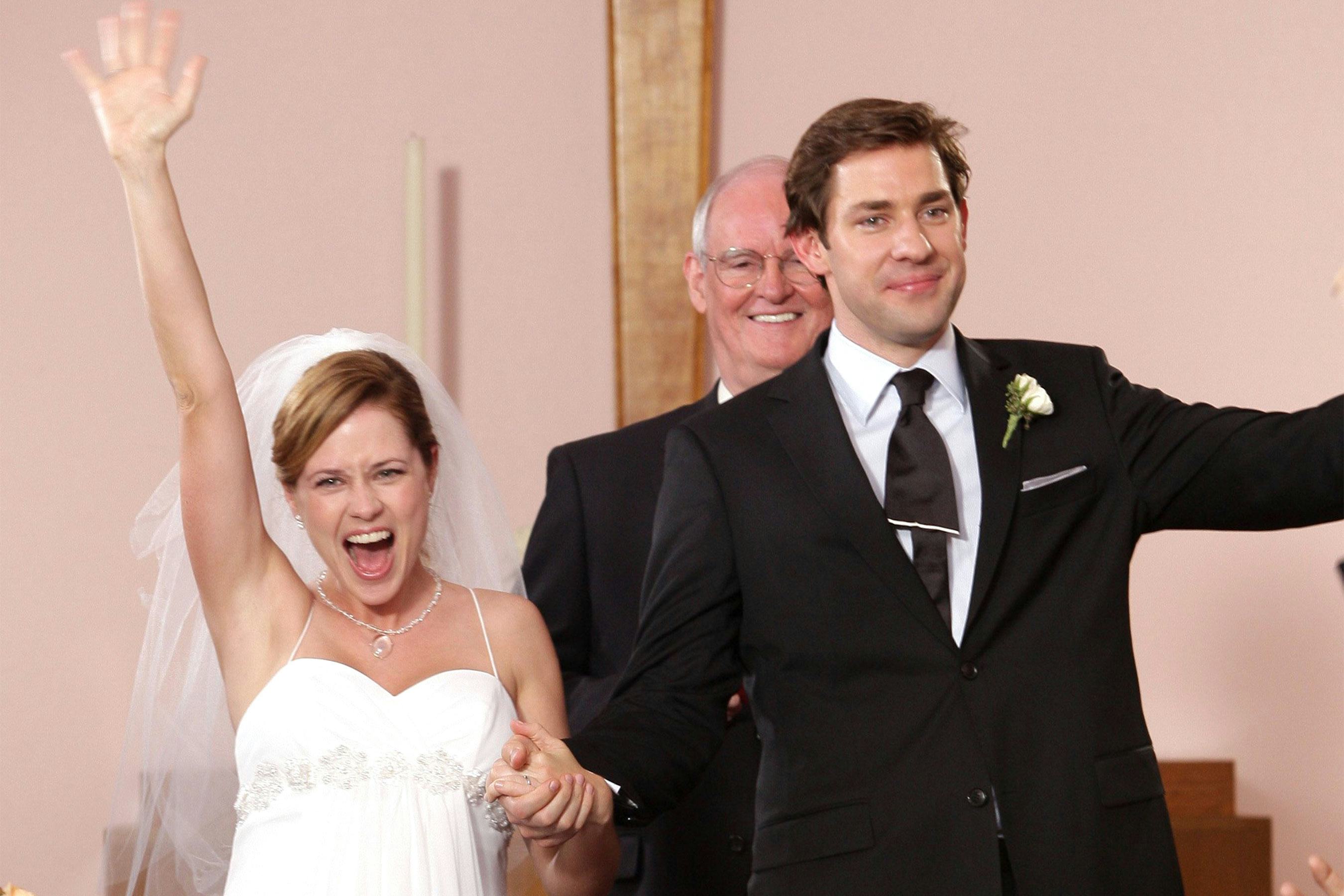 Dwight Was Going to Have a Pretty Horrifying Horseback Moment Too
In the original script, Roy would abandon the horse after Pam rejected him. But, that would work out perfectly for Dwight (Rainn Wilson), who originally became obsessed with horses during the trip to Niagara Falls. The Office creator Greg Daniels said:
So after Roy left the horse, Dwight would ride the horse to the falls. He would jump off it just as they reached the water, and the horse would continue to leap into the falls, creating a pretty dark backdrop to Pam and Jim's wedding. Luckily, the team decided against that fatal plot point. Daniels said:
Pam and Jim's Boat Wedding Was Filmed Right In Front of Real Tourists
The production team wasn't able to get a private boat to film Jim and Pam's intimate Niagara wedding. Instead, they had to try to keep the film shoot as secret as possible while in front of real Niagara Falls tourists. Krasinski said:
Fischer Cried the First Time She Saw the Wedding Party Dance
In the episode, the entire Dunder Mifflin team comes together to dance down the aisle in honor of Pam and Jim. Fischer didn't get to be a part of it since her character was waiting at the end of the aisle. But, she was hit with a big wave of emotion the first time she saw it. She said:
You can read the full oral history of Pam and Jim's wedding here.
Source: Read Full Article