Joshua Zbinden and the Air Jordan 4 for Hypebeast's Sole Mates
As an educator, historian and administrator, Joshua Zbinded has devoted most of his life to nurturing the minds of others. He's taught at a university in Bogota, Colombia and worked with students in his local juvenile justice center, and now he works full-time as a high school economics teacher. Outside of the textbook deep-dives, test grading and report cards, however, there's one hobby that he holds near and dear to his heart: collecting sneakers.
"Bob Marley has a line in his song "No Woman No Cry" where he sings 'My feet are my only carriage' and that always hit me because I realized that no matter what we're doing, where we're going and who we are, it's our feet that keep us moving", Zbinden tells Hypebeast. "So the sneakers we wear tell a lot about what we represent." Growing up in Chicago in the '80s and '90s, Zbinden was captivated by Michael Jordan's prowess on the hardwood and the global impact he's had on culture, so it was only right that he highlighted a signature Jumpman model for his Sole Mates installment, so he elected to go with the first silhouette he ever copped: the Air Jordan 4.
In this installment of Sole Mates, Joshua Zbinden touches on his favorite design characteristics of the Air Jordan 4, how he's used sneakers as a teaching tool and his perspective on how the sneaker landscape has changed.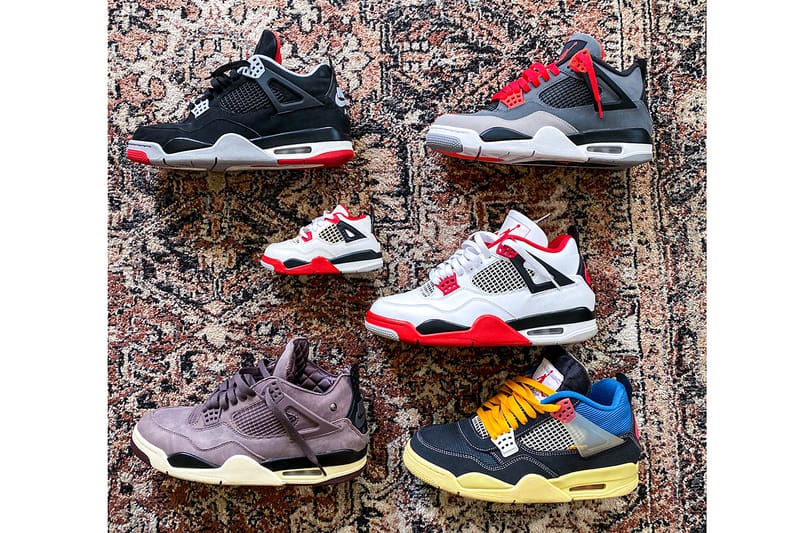 Joshua Zbinden
What got you into sneakers?
Michael Jordan. I grew up in Chicago during the '80s, and back then everything was about Michael Jordan. I naturally gravitated towards sneakers because of him.
Did you get to watch any of MJ's games live?
I went to a couple of Bulls preseason games because they were a little bit cheaper, but I never got to attend a playoff game or witness one of those bigger moments. There's a huge part of me that wishes I could've seen any of his landmark achievements with my own eyes. If there's one moment that I could pick that I would've loved to experience live, it would've been the shot over Craig Ehlo. That memory is burned into my brain. I'd say that my biggest Bulls moment was meeting Scottie Pippen and Horace Grant inside a random Target while they were signing autographs.
Do you recall getting your first pair of Jordans?
I remember in eighth grade I made the basketball team and was in need of sneakers. We didn't have a ton of money growing up so my mom bought me the Payless version of the Air Jordan 3 and when I got to our first game, all the kids around me had new Nikes and Jordans on. They made fun of me, I was heartbroken, and I ended up taking a knife and scissors and ripped the pair to shreds so I wouldn't have to wear them again. Naturally, my parents were upset with me and swore to never buy me shoes again, so I went out and got my first job that summer. I worked really hard because I just had to get my hands on a pair of Air Jordan 3s, but once I had enough saved up they were gone and the Air Jordan 4s were out so I bought the "Fire Red."
How did it feel when you finally copped a pair?
It definitely felt good to spend my own money on something. Even to this day, if I buy something, I know I earned it and that's a good lesson for economics.
"Who I was when the 4 came out in '89 is not that different from who I am '23, but I've matured and learned so much more. So if I'm wiser, the sneakers are too."
What about the Air Jordan 4 resonates with you?
The nostalgia factor hits hard because it was my first pair of Jordans. I feel like every sneaker I've bought since then is just an effort to recreate the feeling of getting that first pair, and over time, you feel like you start to build your identity into a certain model over others. I love the Air Jordan 4's oversized build as well as its wings and various ornaments that bring it all together. All of that hits me in my soul. And then you get into some of the models like the Union collab, which I love because they deconstructed something we grew up with and put it into a new shape. The A Ma Maniére that came out this year had beautiful storytelling.
Also, what I love about 4s is that I've grown up with them, which means that they've grown up with me. Who I was when the 4 came out in '89 is not that different from who I am '23, but I've matured and learned so much more. So if I'm wiser, the sneakers are too.1 of 2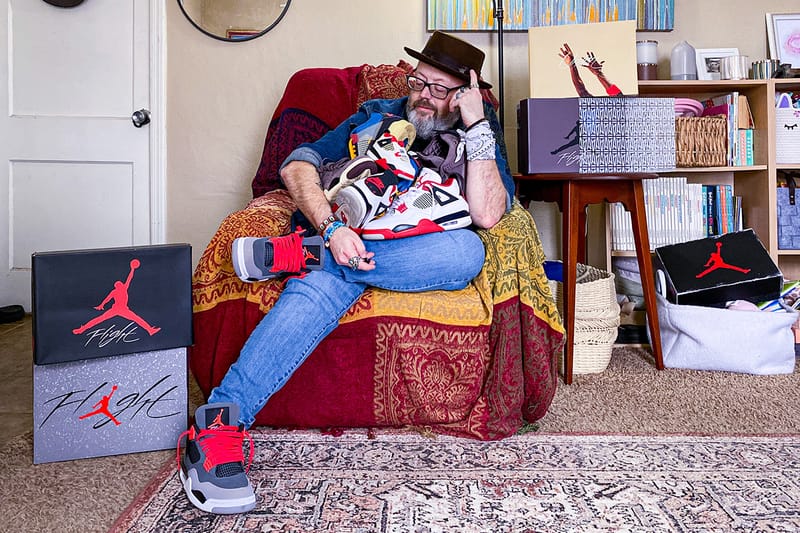 Joshua Zbinden2 of 2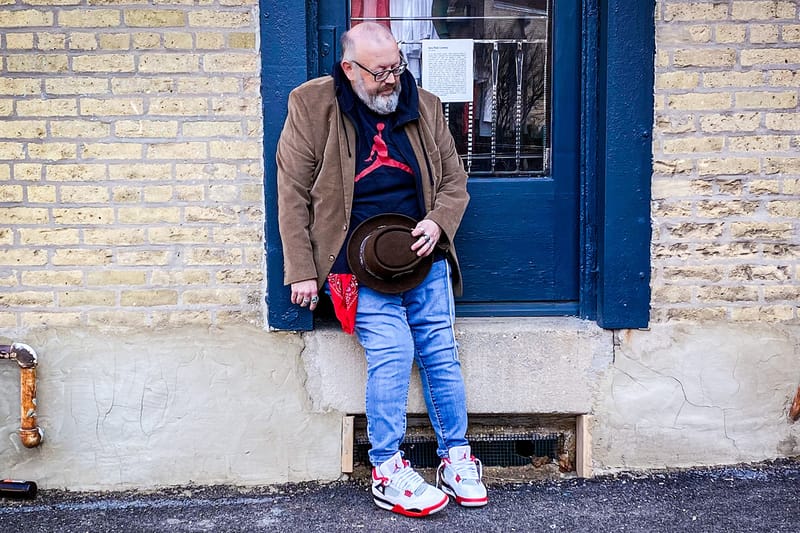 Joshua Zbinden
Do you favor the "Nike Air" branding over the Jumpman logo?
100%. It means everything. It's so important to me that when I found out I was having a baby, I made sure to secure a pair of Nike-branded Air Jordan 4s for my daughter so that it could be her first pair of Jordans. I needed that parallelism. And what I love is that they'll still be an important model when she's older. Their storytelling moves generationally.
Are you a fan of the vintage-inspired looks that Jordan Brand is delivering with its "Reimagined" series?
When Nigel Sylvester's Air Jordan 1 collab came out a few years ago, I thought that Jordan Brand made them look a little too vintage. However, something different happened with the Air Jordan 1 "Lost & Found" where the storytelling matched the visuals. We all know the irony of Nike pushing mom and pop stores out and then releasing a shoe that's related to that era, but the storytelling was done so perfectly that it made you feel like the sneakers were waiting for you all these years. I'm excited to get the Air Jordan 3 "White Cement Reimagined" too because I feel like it's gonna have that same effect.
"Collecting is not just about grabbing everything, it's about finding the ones that help you tell your own story."
You mentioned earlier that who you are now isn't that different from who you were in '89 but now that you're an adult with a job and disposable income, do you view sneakers differently than you did when you were a kid?
It's definitely dangerous because you can often end up with sneakers that you don't need. As an older consumer, I recognize I have a lot more purchasing power, but I also know that I need to be responsible with what I want and to make sure the sneakers are matching my story. I have the ability to help that sneaker tell its story along with mine in a much more profound way than I ever could before. When I was younger, it was more about letting the sneaker carry me and now it's a journey that we're both on. Collecting is not just about grabbing everything, it's about finding the ones that help you tell your own story.
Do you have any friendly sneaker competitions with your students?
It's not much of a competition — I want to win every time. You got to come real correct to go against me [laughs]. I have some students that are really close to me right now that are big sneakerheads. They have great collections. They understand how to wear them, they know what to do with them and it's a fun thing to build in a community where it's not like we're chasing after the same thing, but we all want to have that same feeling.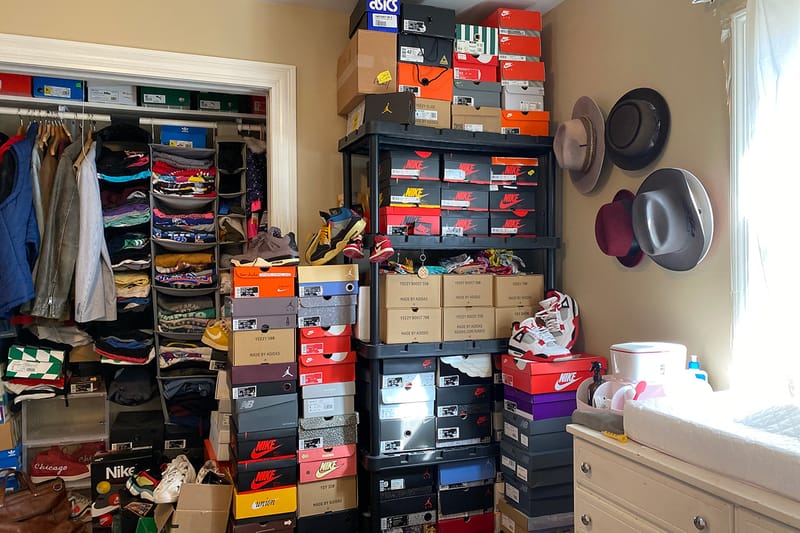 Joshua Zbinden
I'm sure that you're aware of the economics that are involved in the sneaker industry. Do you ever weave that into your curriculum?
I've referenced StockX in one of my economics classes. I had a pair of adidas YEEZY BOOST 350s that I had on the marketplace and I actually made it into a game during one of the classes to sell the shoes. The price wasn't jumping around too drastically during that period, but we did sell them for the price point that the class agreed on. It was a great way to make that immediate to the students. What's funny is I have students that know the game very well because they're resellers. There's no question that I became an econ teacher because of the experience I have with sneakers.
Why are sneakers and their stories important to you?
They help me change my community in the way that I want to see. It sounds silly because you might think, "how can a pair of sneakers do that?" But if it gives me confidence, it might change the way you see me and how you interact with me. Sneakers went from being something we would use to play ball in to something we live a lifestyle in, and each pair reflects a different aspect of our personality. Since young Josh learned work ethic because he had the determination to go out and get a pair of sneakers, I can't tell you how many lawyers, doctors and architects I've put out in the world because they've built up this burning desire to go after something too.
Source: Read Full Article