Tyrese Gibson Pokes Fun at Sukihana's Resemblance to Tracy Morgan and Martin Luther King
The actor portraying Roman Pearce in 'Fast and Furious' franchise has hilarious response after the TV personality/femcee says someone told her she looks like a mix of Tracy and MLK.
AceShowbiz –Tyrese Gibson couldn't help but laugh. The 43-year-old R&B singer/actor has hilarious response after Sukihana said that someone told her she looks like a combination of Tracy Morgan and Martin Luther King.
On Thursday, September 22, Sukihana tweeted, "B***h somebody said I look like I'm mixed with Tracy Morgan and Martin Luther king [holding back tears emoji] idgaf if they trickin I'm lickin."
Later, The Shade Room took a screenshot of Sukihana's tweet and posted it on Instagram. In the comment section, many have since poked fun at the 30-year-old TV personality/raptress' resemblance to Tracy and MLK, including Tyrese.
"The Uber love child lol," Tyrese commented. The Roman Pearce depicter in "Fast and Furious" franchise continued, "The funny preachers daughter. In theaters 2023."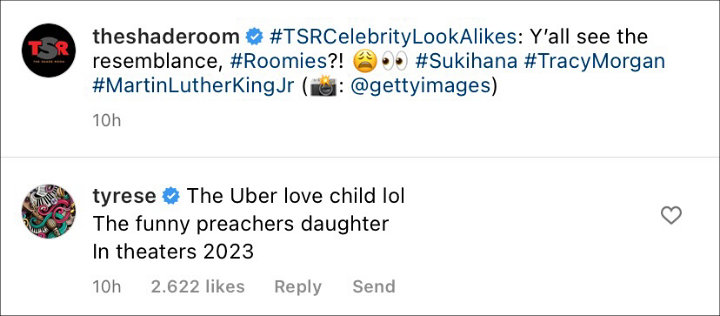 Tyrese Gibson's reaction to Sukihana's resemblance to Tracy Morgan and Martin Luther King.
Some people found Tyrese's comment funny. "screaminggggggggggggg," one person reacted, while another replied, "@tyrese just gave you a title for your movie Suki." A third simply said, "Lmaoooo."
Others, in the meantime, warned Tyrese not to badmouth Sukihana's appearance. "he will be on here [The Shade Room's Instagram page] next crying he's being attacked he need to never say anything," one person replied to his comment, with another adding, "I promise you bro this is not funny."
"Igh when she have you back on live & you crying again we ain't gone feel bad for you," someone else penned. A separate Instagram user pointed out, "@tyrese You definitely shouldn't be in these comments."
That aside, Tyrese recently landed in hot water after allegedly using Kim Kardashian's name for clickbait. Last week, the "How You Gonna Act Like That" crooner made use of his Instagram account to share a message about Kim amid her sex tape drama with Ray J.
However, his message didn't seem to be focused on Kim directly. The "Morbius" star, instead, was talking about his divorce drama with his ex-wife Samantha Lee Gibson. In his post, he insisted that he didn't cheat on her and shut down rumors he fathered a baby with another woman.
Accusing him of clickbaiting, one person commented, "He's trying to say Kim is that powerful we would only listen to him because he wrote her name on a post." Someone added, "Man Leave Kim out of this she got enough on her hands with [Kanye West] and Ray J."
Source: Read Full Article