Tom Bergeron Was Making So Much Money Before He Was Fired From 'Dancing With the Stars'
You know how Tom Bergeron was pretty suddenly fired from Dancing With the Stars last year? Well good news: He can definitely afford to ditch his day job. Turns out Tom—who hosted Dancing With the Stars for a full 28 seasons—made tons of money from the show, and he has a massive net worth as a result. In other words, this dude is not sweating the lack of paycheck from his former friends at ABC, kay?
Obviously, we're mildly curious/incredibly nosy about exactly what Tom has in the bank thanks to DWTS, so the time has come to take a casual dive into his pile of money.
So…how much was Tom making on Dancing With the Stars?
So. freaking. much. Celebrity Net Worth reports that at his peak hosting, Tom was taking home $150,000 per episode. And considering this show airs twice in one year for literal weeks, that's a lot of money.
Let's take the year 2017 as an example (truly, happier times): Dancing With the Stars aired in March for 11 episodes and then again in September for 12 episodes. If Tom was making $150,000 per episode, that means he earned a total of $3,450,000. Like…IN JUST ONE YEAR.
Kay, but how much does everyone else make?
While we're here, might as well run through a quick breakdown of how much contestants make on this show. According to Variety, celebs gets paid $125,000 for rehearsal + the first two weeks on air. And if they aren't eliminated they get more money with a max payout of $295,000. Meanwhile, according to Us Weekly, pros make $1,200 per episode when they start, and if they're more seasoned they can make up to $5,000 an episode.
What about AFV?
America's Funniest Home Videos was hosted by Tom from 2001 to 2015, but the show isn't nearly as high profile as Dancing With the Stars anymore (though it is perhaps more iconic) so his exact salary isn't known. It's mysterious, much like this gif:
So, what is Tom Bergeron's total net worth?
Thanks for asking, that'd be $16 million according to Celebrity Net Worth. But before you're like wait…shouldn't it be higher if he was earning ~$3.5 million per year and he did this for 14 years???? don't forget that Tom spends money *and* has to pay taxes. On top of that, he didn't make his peak salary every season—it was presumably the result of multiple raises and contract negotiations over the years.
Just FYI that Tom recently opened up about leaving DWTS and implied it wasn't on the best terms. "In all candor, the show that I left was not the show that I loved," he told Bob Saget, via People. "So at the end of the season that turned out to be my last season, I kind of knew. I took everything out of my dressing room that I really wanted… t was kind of obvious that we were kind of butting heads [behind-the-scenes]. It wasn't a pleasant [experience]…I wasn't surprised that that was my last season, so there was no blue period. Actually, I think Erin and I had more fun being fired than virtually anybody."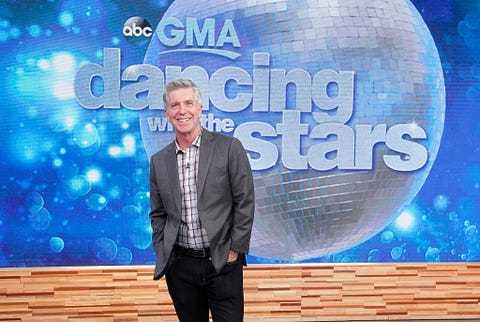 He also added, "They're entitled to do the show the way they think is best. And so I look back at the time I spent there with really great fondness for the vast majority of it. And also there are people there on the show performing that I still care about, and I want them to have long careers. I want people to still watch it and support them and understand that sure, it's different. But, you know, there's still very talented people who were going to be on on your screens."
Tom announced that he's returning to hosting (on a brand new show) soon, so expect his net worth to increase.
Source: Read Full Article