'The Simpsons' Will Go 'Stranger Things' for Its 666th Episode
• 'Treehouse of Horror' is the annual Halloween episode of The Simpsons.
• Past versions have spoofed The Shining and 2001: A Space Odyssey, among countless others.
• This year's iteration will take aim at Stranger Things.
Premiering in 1989, Matt Groening's seminal animation series The Simpsons, just missed inclusion in Netflix's Stranger Things universe (which takes place in 1985). So, since Stranger Things couldn't swallow The Simpsons in its mouthful of '80s TV and film references, The Simpsons, retaining its hold on all things cultural allusion, has finally come for Stranger Things.
The poster for the series' 30th installment of "Treehouse of Horror," its seasonal Halloween anthology, parodies the first season of the Netflix sensation: Lisa looms as Eleven, the Van Houten (Milhouse) family stands nervously as the Byers clan (with Chief Wiggum as Hopper), and Martin, Bart, and Nelson ride as Lucas, Will, and Dustin, respectively.
Things get "strange" with this mini poster for @TheSimpsons and their annual Treehouse of Horror episode. This year's design, honoring the 666th episode of the series, Treehouse of Horror XXX, features homages to both Stranger Things and The Shape of Water. pic.twitter.com/CxqUUGR5Xr
Treehouse of Horror XXX will premiere October 20th on FOX, and will be The Simpsons' 666th episode ("as we planned from the beginning," they joke at the top of the poster).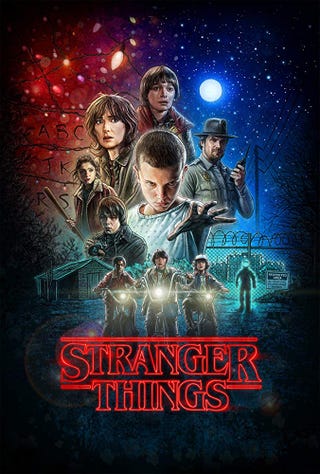 Netflix
The first "Treehouse of Horror" aired in 199,0 and spoofed The Twilight Zone. Since then, the series has rolled for some 28 seasons, and featured just about every cultural allusion one can imagine. The show became so iconic and so enmeshed in America's cultural, beer-stained fabric that a celebrity appearance (a person becoming Simpsonified, with the classic yellow animated skin and drooping upper jaw) came to be seen as an honor.
We're hoping at least one real-life Stranger Things actor receives that honor with their very own Springfield cameo. If we had to guess? Our money's on David Harbour.
Source: Read Full Article