Ronnie Ortiz-Magro Dubbed 'Shameless' for Sharing Clickbait Article About 'Murdered' MTV Star
After promoting a clickbait article about 'brutally' killed 'Ex on the Beach' star Chris Pearson on his social media page, the 'Jersey Shore' star faces backlash and criticism.
AceShowbiz –Ronnie Ortiz-Magro has landed in hot water. The "Jersey Shore" star was dubbed "shameless" by social media critics after he shared a clickbait article about a "brutally murdered" MTV star.
Making use of his Instagram feed and Story on Wednesday, October 13, the 35-year-old promoted a clickbait story about the late "Ex on the Beach" star Chris Pearson. While covering the face of the late reality star with a broken heart emoji, he wrote, "#RIP MTV star brutally MURDERED [brokenheart emoji] #LinkInBio."
Shortly after facing backlash over his insensitive post, Ronnie quickly disabled the comment section before deciding to remove his post from his page. However, he is keeping the clickbait post on his Instagram Story.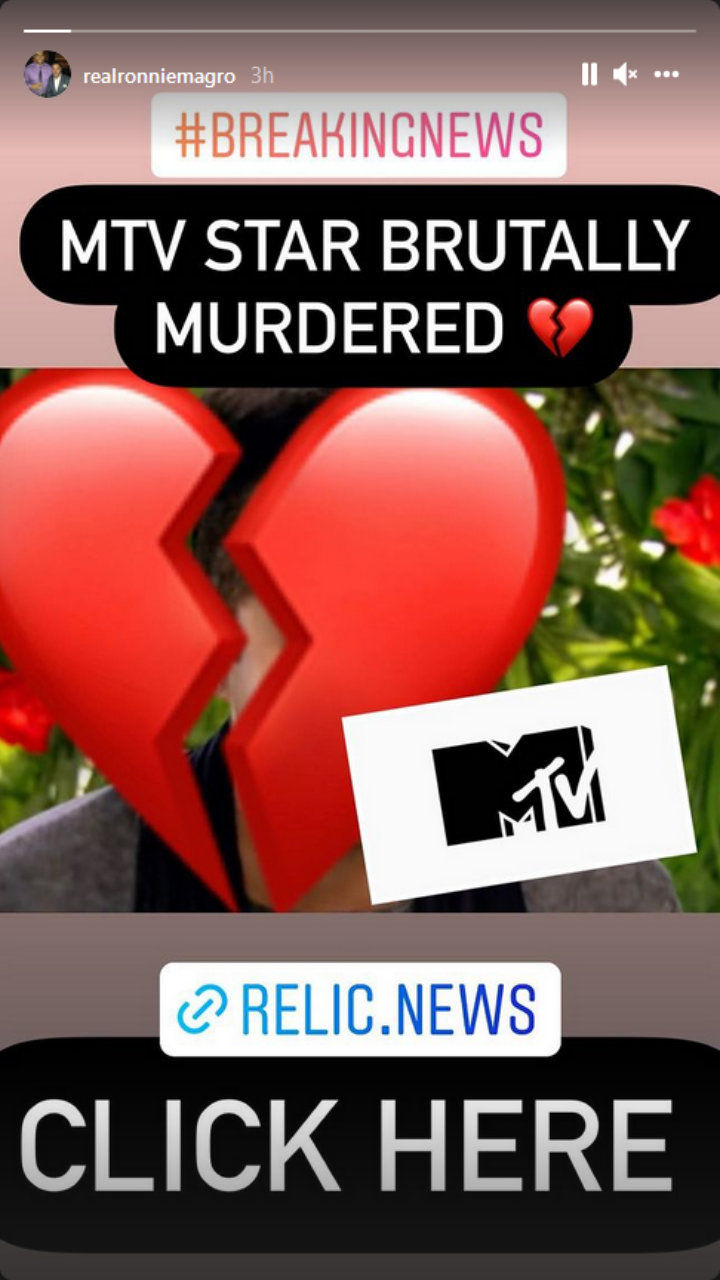 Ronnie Ortiz-Magro promoted a clickbait article on his Instagram Story.
Upon learning his social media behavior, many social media critics rushed to Reddit to call out Ronnie, dubbing the TV personality "shameless." The thread, which was titled, "He's getting worse", included a screenshot of Ronnie's controversial post.
"Clickbait is getting out of control. This is so distasteful to that poor guys family. Using a murder for clicks & cash," one wrote. Another added, "He's such a disgusting human. Who the f**k would post that." A third chimed in, "This is so distasteful," while another MTV fan commented, "This is the smut that pays for his vacations. What garbage."
Chris was pronounced dead at a Los Angeles hospital after a tragic stabbing incident in the 22000 block of the San Fernando Valley nightclub on Sunday, October 10. Following his tragic death, MTV star Taylor Selfridge mourned his death in the comment section of his latest Instagram post as saying, "This is heartbreaking."
Taylor also turned to her Instagram Story to share a snap with Chris. Along with the picture, the "Teen Mom" star wrote, "We woke up to some very heartbreaking news. Rest In Paradise. This was the last time we saw you after ex on the beach [love]. @creaturesferris." Concluding her post, she added, "We love you forever!!"
Source: Read Full Article