Prince William to make rare TV appearance after joint outing with Princess Kate
The Prince of Wales will take part in the Red Nose Day night of TV as it returns to screens on Friday.
William's TV appearance will come just hours after he joins wife Kate as the Princess of Wales makes her debut as Colonel of the Irish Guards at the St Patrick's Day parade.
The future King, 40, will shine a light on the stark reality of homelessness as he appears in a special thought-provoking film which will be shown during the programme.
William has spent time with Groundswell, a homelessness organisation funded by Comic Relief, and has recorded a podcast with its Listen Up! Project. See what the royal has to say in this teaser clip as he meets Nawshin and Miles…
WATCH: Prince William makes special TV appearance for Red Nose Day
Later in the film, the Prince will say: "My mother introduced me to the cause of homelessness from quite a young age, and I'm really glad she did. I think she would be disappointed that we are still no further on in terms of tackling homelessness and preventing it than when she was interested and involved in it."
This Red Nose Day, money raised will help support people struggling with the cost-of-living crisis and tackle issues such as homelessness, mental health, and food poverty here in the UK and around the world.
NEWS: Princess Kate celebrates family occasion after Commonwealth Day service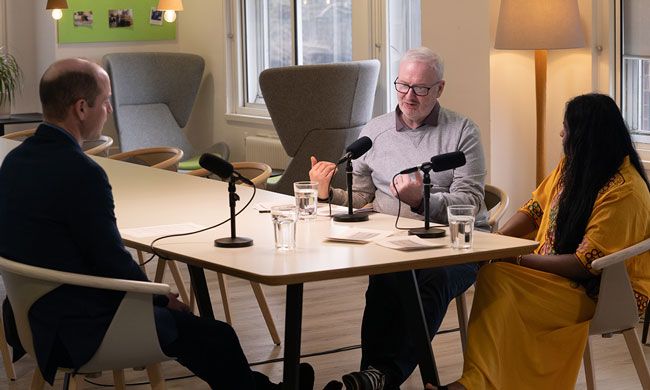 William speaks to Nawshin and Miles
Comic Relief has supported homelessness projects since 1988, and over the past two years Comic Relief's funding has helped to support over 31,000 people experiencing or at risk of homelessness to access safe accommodation and specialist support.
Red Nose Day night of TV returns on Friday 17 March, from 7pm on BBC One and iPlayer. To support Comic Relief, you can donate online at comicrelief.com/donate
LISTEN: What Prince William and Kate are really like behind the scenes
Make sure you never miss a ROYAL story! Sign up to The Royal Explainer newsletter to receive your weekly dose of royal features and other exclusive content straight to your inbox.
Source: Read Full Article