Peter Weber Left a Sweet Comment on Kelley Flanagan's Breakup Post
Kelley Flanagan just hopped on Instagram to finally address her breakup with Peter Weber, and it looks like there are approximately zero hard feelings because he dropped a comment on her post. Kay, it was less of a comment and more of an emoji, but still—clearly there's no drama to be found here.
In her post, Kelley gave Peter a shoutout for the good times they shared, writing "I know a lot of you have already heard the news, but I wanted to take some time to process it for myself before sharing. It saddens me to say this but Peter and I have decided to go our separate ways. Peter and I had some unbelievable times together and they will definitely be missed. Unfortunately him and I are in two different stages of our lives and saw our future paths differently."
Since the former couple still follow each other on Insta, Peter saw Kelley's post and dropped a simple heart emoji in a show of support: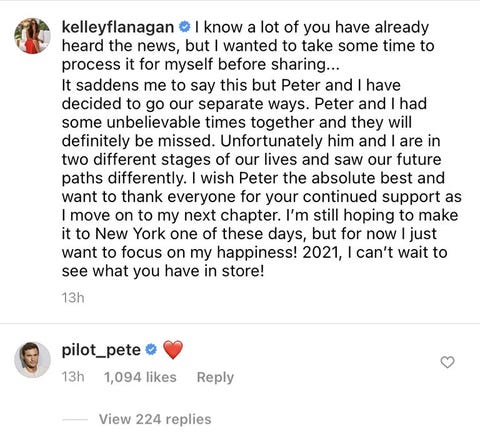 As a reminder, Peter is allegedly the one who broke up with Kelley (though she was in agreement that they needed time apart), with a source telling E! News that "They had been fighting a lot, and the move was very stressful and put a lot of pressure on them."
Now that Kelley is single, let the speculation begin re: her joining Bachelor in Paradise!
Source: Read Full Article