Olympic Athletes Who Sadly Died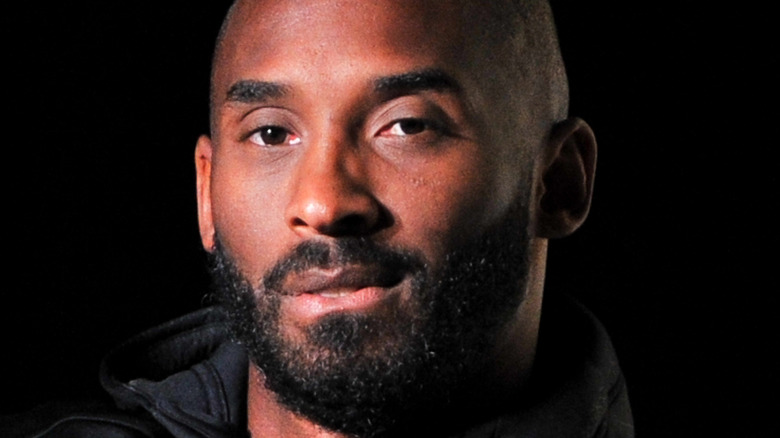 The Olympics are a showcase of the world's fittest of the fit, but many athletes have still sadly died in tragic and untimely ways. While their record-breaking feats sometimes make them appear to be real-life superheroes, these people are — of course — merely human.
Several athletes have died while competing at the modern games, the first being Portuguese marathon runner Francisco Lazaro of sunstroke at the 1912 Summer Olympics in Stockholm, Sweden, as shared by the book "Dope: A History of Performance Enhancement in Sports from the Nineteenth Century to Today" (via Time). 
A surprising number of Olympians have excelled at competition only to have their medal-winning bodies fail them shortly after. It can be hard to comprehend how such a thing can happen — but as our list shows, diseases like cancer and epilepsy don't care what kind of medal is hanging around a person's neck or how much money an Olympic athlete makes.
Nodar Kumaritashvili died on opening day of the Vancouver Olympics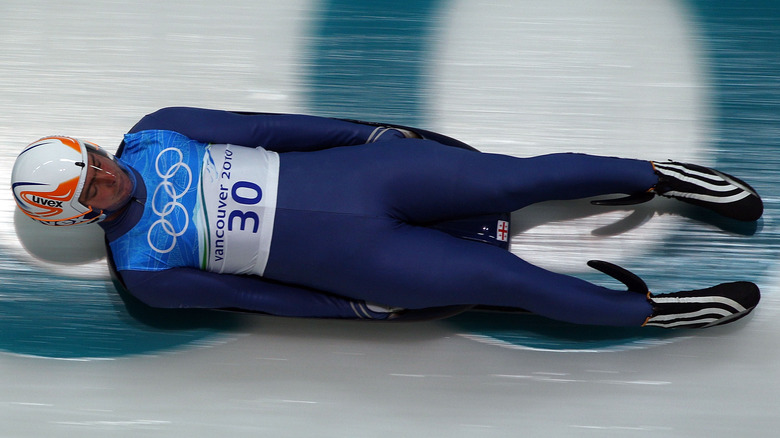 Nodar Kumaritashvili's love of luge was embedded into his DNA. His father was a luger for the USSR, and his grandfather brought the fast-paced sport — in which athletes lie flat on a sled and race down an icy track — to their country of Georgia, Reuters reported. But all of that, plus years of training, wasn't enough to save him. 
On opening day of the Vancouver Winter Games in 2010, Nodar set off on a practice run at the luge track in Whistler, British Columbia. Part way down was a corner his fellow athletes had taken to calling the "50/50," based on the odds of wiping out, according to Wired. "I told him, brake, brake, don't risk it," his father, David Kumaritashvili, told ABC News. His son's reply: "No Dad, I'll risk it. "What will be will be," he added.
Nodar did not make it past the turn. Barreling down at a speed of 144 kilometers an hour, as the CBC reported, he flew off the sled, went off the track, and then flew into a steel post. He was pronounced dead at a nearby hospital shortly after, at age 21, as noted by The New York Times.
Gold medalist Flo Jo died at 38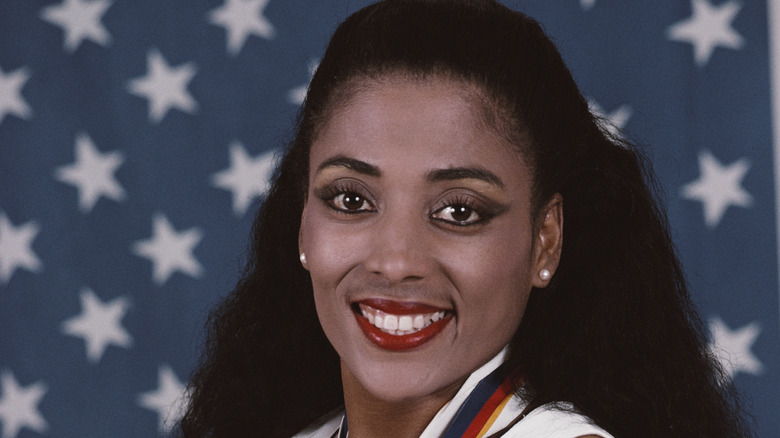 Runner Florence Griffith Joyner is one of the few Olympic athletes to have achieved nickname recognition. Flo Jo, as she was better known, reached fame through her phenomenal race times and flamboyant style on the track. The Californian won a silver medal at the 1984 Olympics in Los Angeles, and then wowed the world by taking home another silver and three gold medals in Seoul in 1988 (via CNN). She went down in history as the fastest woman in the world, clocking a record time of running 100 meters in just 10.49 seconds. Her racing is one of several Olympic moments guaranteed to make you cry.  
But she wasn't just a flash on the track –- she was flashy. Vogue quotes her as saying: "Dress good to look good. Look good to feel good. And feel good to run fast!" She would often sport vibrant manicures on her six-inch long nails, and her racing outfits included white lace leggings and a bodysuit with just one silver legging pantleg (via HuffPost). 
Sadly, Flo Jo died at age 38, after suffering an epileptic seizure in her sleep, as reported by the Los Angeles Times.
Bahman Golbarnejad died during the 2016 Summer Olympics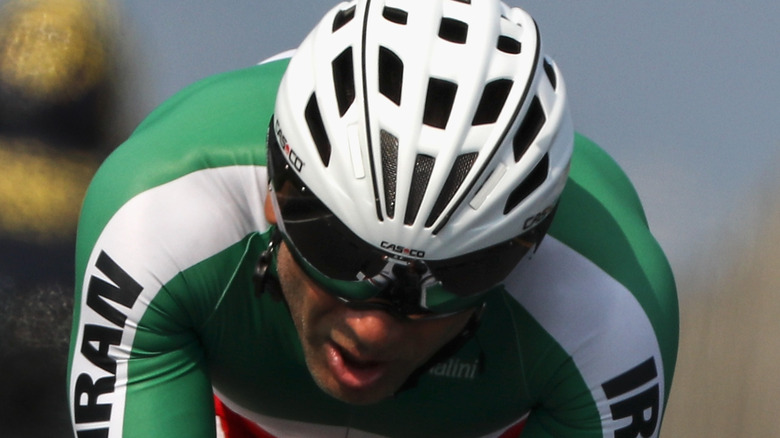 Bahman Golbarnejad lived much of his life able-bodied. But that changed forever in the late 1980s, while he was a soldier in the Iran-Iraq war. Patrolling one night, the Iranian stepped on a land mine. The damage to his body was instant, leaving him deaf in one ear, suffering from partial vision loss, and, most significantly, without a left foot, IranWire reported.
But he didn't let his injuries limit him. He decided to take up cycling, and a decade later, he qualified for the 2012 London Games. The news was bittersweet, however: His wife died of cancer that same year (via Tehran Times). Still, he showed strength again, forging ahead to represent his country.
He also qualified in 2016, and he headed to the Paralympics in Rio de Janeiro, Brazil. But on what was described as a "mountainous stretch" of the circuit, he suffered a cardiac arrest, crashed, and died shortly after, as reported by The Wall Street Journal. The cyclist, age 48, was the first athlete to die during a Summer Olympic competition since 1960, the BBC reported. He left behind one son. 
Steve Prefontaine's trailblazing career was cut short by a car crash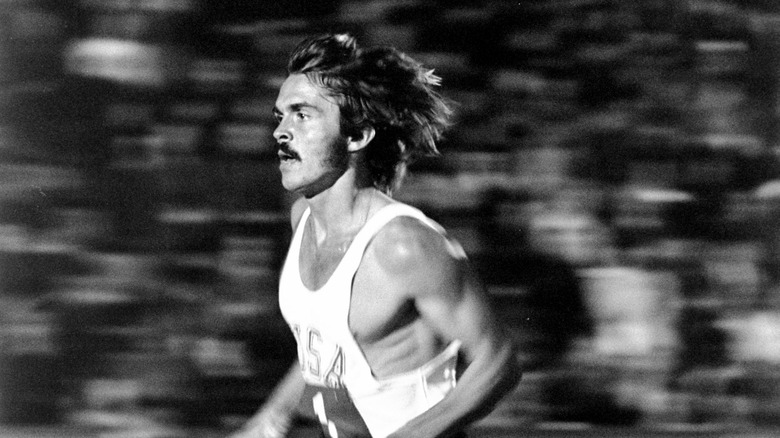 Michael Jordan. Wayne Gretzky. Steve Prefontaine. If you're not into running, that last name might seem out of place. But long-distance runner Steve Prefontaine deserves to be on the list of all-time greats. The American blazed a trail on the track and in life, popularizing running — yes, it wasn't always the craze it is now — and scoring one of the first-ever Nike endorsement contracts, according to Nike's website. 
But despite an impressive, record-holding career, Prefontaine never medaled at the Olympics, and he endured a heartbreaking fourth-place finish in the 5,000-meter event at the 1972 Games in Munich, Germany. After a close race, he fell out of third place in the final few meters. Still, his competitive spirit never waned. "To give anything less than your best is to sacrifice the gift. Somebody may beat me, but they are going to have to bleed to do it,"  the CBC quoted him as once saying.
In all likelihood, Prefontaine would have finally earned a medal or more at the 1976 Summer Games in Montreal, Canada. Unfortunately his career — and life — ended far too early. As The New York Times reported, driving home after a party in Oregon in 1975, he crashed his car; tests showed a blood alcohol level of 16% — far above the legal limit. He was just 24.
Kobe Bryant died in a tragic helicopter crash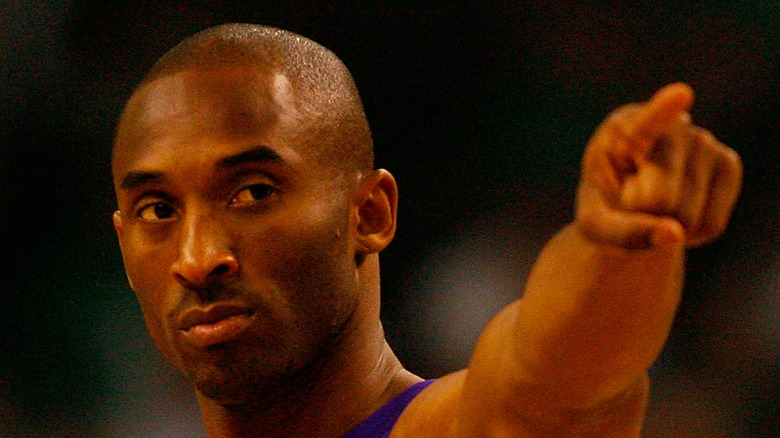 Kobe Bryant, one of the greatest basketball players to ever live, had a list of accomplishments that would make most professional athletes jealous (via USA Basketball). Twenty years with the Los Angeles Lakers. Five NBA championships. Eighteen trips to the All-Star Games. He had secured his legacy well before his tragic death in 2020: The Black Mamba, as he was also known, died instantly during a helicopter crash near Los Angeles at age 41 (via ESPN).
By then, he had also earned two Olympic gold medals. His first trip to the Games was in 2008, to Beijing, China. The team USA roster — which also included LeBron James — was nicknamed the Redeem Team, a riff on the Dream Team moniker of the 1992 squad, and reference to the country's utter collapse at the 2004 Olympics in Athens, SB Nation explained. Bryant proved crucial to the Americans reclaiming the top spot, sinking basket after basket in the final few minutes of a game against Spain. Four years later, at the 2012 Games in London, the United States took gold again, with many of the same players, including Bryant, back on the court.
Despite all of his achievements, the Olympics were different and special for Bryant. "It was something that was very personal to us to put our country back on top," Olympics.com quotes him saying. "It's a different feeling playing for your country."
Swimmer Camille Muffat died while filming a TV show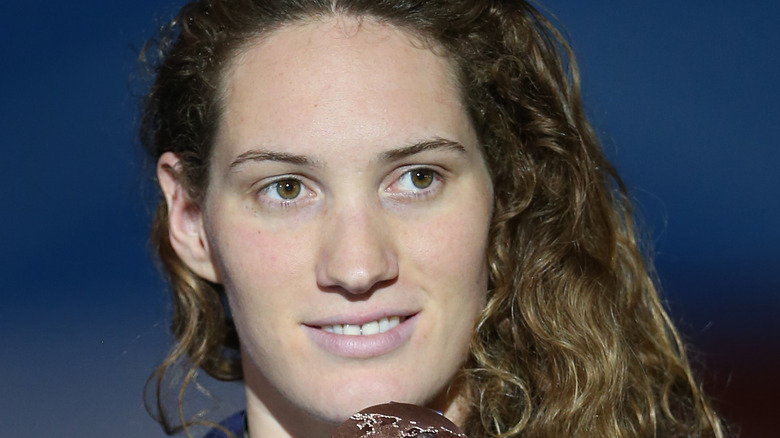 French swimmer Camille Muffat retired from swimming at the young age of 24. And why not? She had already landed an Olympic trifecta, winning a gold, silver, and bronze medal at the 2012 Games in London. The first two were for 400-meter and 200-meter solo freestyle events, respectively, and the third-place finish came as part of the 4 x 200-meter relay team, as reported by the Independent.
But she would never find out what the future held for her. She died shortly after in 2015 while filming "Dropped," a French survivor-skills reality show featuring top athletes, in Argentina. Two helicopters carrying contestants, including the swimmer, hit each other, killing everyone on board. A second French Olympic athlete — boxer Alexis Vastine — also died, along with several others. The accident was blamed on pilot error, according to Yahoo! News.
Muffat had been excited about the opportunity, her agent Sophie Kamoun told the Associated Press (via NBC Sports). "I spoke to her on the phone two days ago and she told me she'd spent a fabulous week, one of the best of her life," Kamoun shared.
The Munich Massacre left five Olympic athletes dead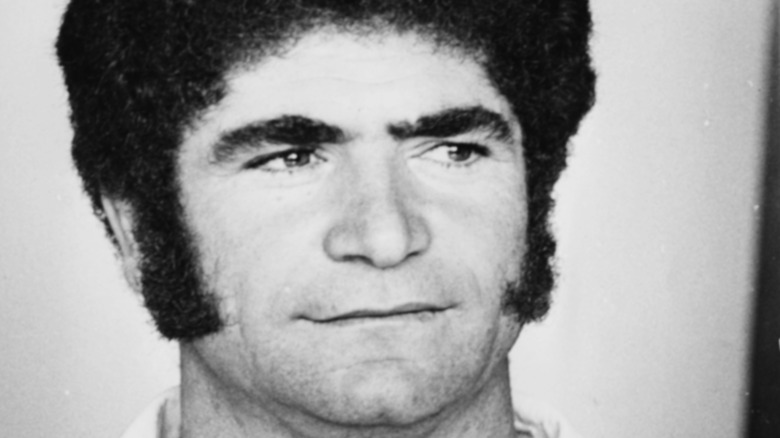 It is the greatest tragedy in the history of the Olympics. In 1972, Palestinian terrorists took members of the Israeli team hostage during the Munich Games in Germany. Within a day, multiple athletes and coaches would be dead.
In the early morning hours of September 5, eight armed terrorists, part of a group called Black September, hopped the 10-foot-high fence surrounding the athlete's village, according to the Toronto Star. They entered the Israelis' rooms and killed two people almost immediately. Police arrived, and negotiations began. The terrorist's demands were that Israel needed to release 230 Palestinian prisoners, along with members of a German terrorist group (via World Jewish Congress).
Much of the communication between the Palestinians and the negotiators took place as the hooded terrorists stood on the balcony of the residence. As the CBC explained, the shocking event unfolded live, broadcast around the world. Eventually, the Palestinians took the Israelis to an airport, which they believed was the first step to having their demands met, but was actually a trap by authorities, as reported by The New York Times. A shootout ensued, and all the hostages — and some of the terrorists — were killed. The five athletes were Yosef Romano, Ze'ev Friedman, David Berger, Eliezer Halfin, and Mark Slavin (via NBC News). After just a 34-hour pause, the Olympic competitions resumed, as History noted.
Sandra Schmirler's cancer death broke Canadians' hearts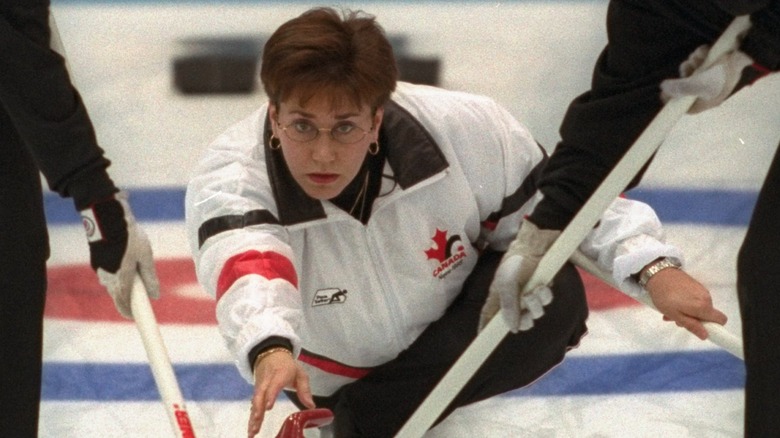 Canada is known as a hockey-mad country — but one of its most beloved athletes on ice was actually a curler: Sandra Schmirler.
The "Queen of Curling" — as she was immortalized in her biography — rose to prominence as a young skip, or team captain, in Ottawa, The Globe and Mail reported. She was a three-time world champion when curling made its debut as an Olympic medal event at the 1998 Winter Games in Nagano, Japan. She led her women's team to the first gold curling medal ever. She captured the hearts of her nation — including none other than the Great One, famed hockey player Wayne Gretzky, according to her biographer Perry Lefko on the Sandra Schmirler Foundation website.
The rising athlete was also a mother of two when she was diagnosed with cancer in 1999. Despite aggressive treatment, she died in March 2000 at age 36, leaving behind her husband and daughters, aged 2 and just 8 months. Canada mourned as her funeral was broadcast live across the country, as noted by the CBC.
Would a helmet have saved Fabio Casartelli?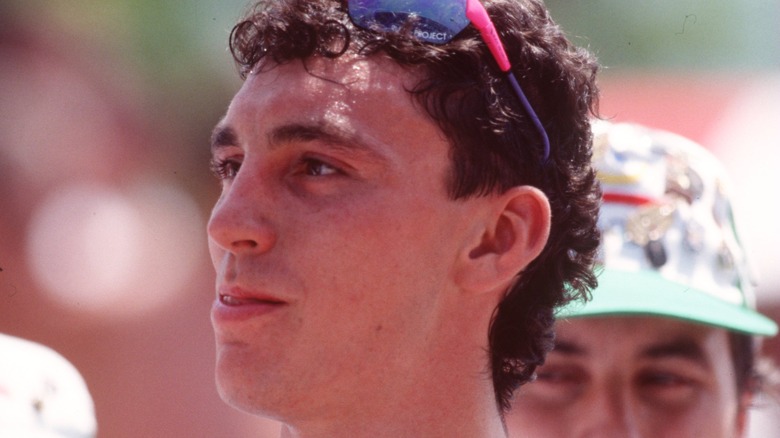 Italian cyclist Fabio Casartelli won the road race gold medal at the 1992 Olympic Games in Barcelona, Spain. His death just three years later would take place during a different high-profile sporting event.
On July 18, 1995, the cyclist was in Stage 15 of the Tour de France, attempting one of the hardest descents, the Los Angeles Times reported, when he missed a turn and hit a concrete pylon; the 24-year-old didn't even survive long enough to make it to the hospital. He was the third racer to die in the famed long-distance challenge since it began. "I think the whole peloton froze that day," team manager Jim Ochowicz told VeloNews. "This is a dangerous, tough sport, things like that can happen. It's a memory I'll never forget."
Controversy surrounded his death, with some arguing that head protection would have saved his life, the London Sunday Times reported (via the Bicycle Helmet Safety Institute). The tragedy — along with a second cyclist death in 2003 — helped lead to mandatory helmets at all Union Cycliste Internationale (UCI) events, including the Tour de France (via Cycling News).
Alexander Dale Oen, just 26, died of cardiac arrest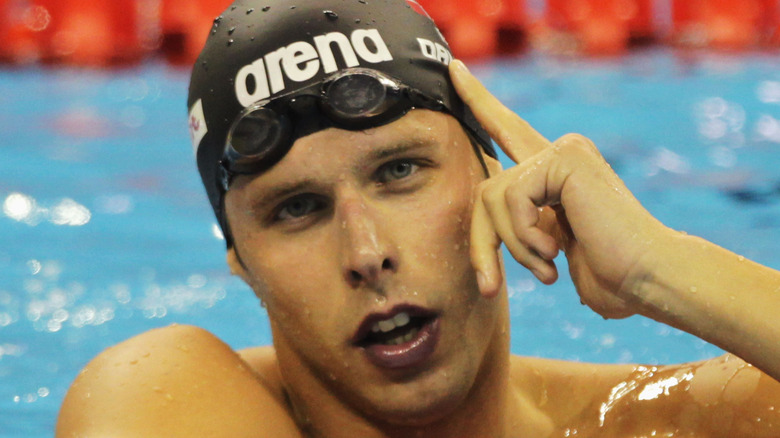 At 26, Alexander Dale Oen was young, fit, and at the top of his game — just about the last person anyone would expect to die suddenly. 
In 2008 in Beijing, China, he became the first Norwegian to win a medal in swimming at the Olympics — a silver in the 100-meter breaststroke. He was a national hero, and favored to win gold at the 2012 London Games, as ESPN reported. But that April, less than three months before the Olympics were to start, he died after what was described as a light training practice in Flagstaff, Arizona. Teammates grew worried about his absence, and found him unconscious, half out of the tub. Efforts to revive him were unsuccessful. The official cause of death was cardiac arrest caused by a blood clot in a coronary artery, according to Swimming World Magazine. 
He had called his girlfriend earlier that day to say how eager he was to get home, The Guardian reported. "Good night my love," he wrote. "I look forward to sleeping next to you again."
The plane Pat Porter was piloting crashed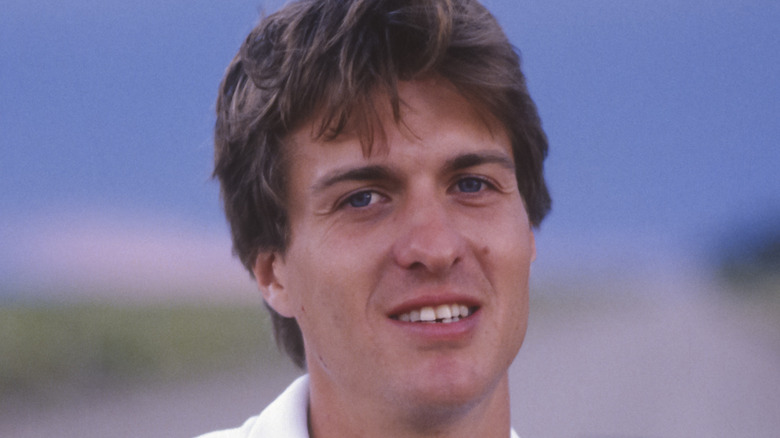 Pat Porter was called "arguably the greatest cross country runner in American history" by Runner's World, and it's true he made his mark on the sport.
He represented the United States at the Olympics twice, both times for the 10,000-meter event, in 1984 in Los Angeles and 1988 in Seoul, South Korea. He didn't medal, but he'd won national titles eight years in a row in the 1980s, securing his place in track and field history.
Sadly, his story would end on a dark note on July 26, 2012, when he decided to go flying in Sedona, Arizona, as reported by Fox 10 News. While piloting a small plane, Porter ran into difficulties just after takeoff, and the plane ultimately crashed after veering off the runway and over a cliff. He died on the scene at age 53. What made the tragedy even worse was that his 15-year-old son, Connor, and one of the teenager's friends were also onboard and died.
Yuliya Balykina was killed by an ex-boyfriend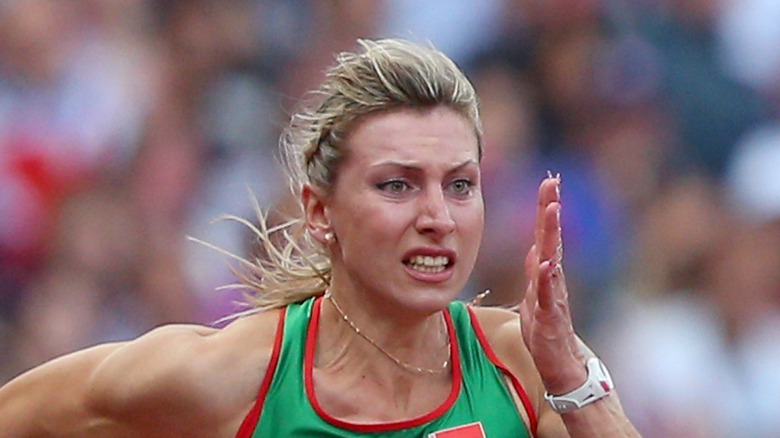 Yuliya Balykina was a Belarusian runner who competed in the 2012 London Olympics, finishing seventh in both the 100-meter and 4 x 100-meter relay events. Sadly, her violent, tragic death at age 31 will forever overshadow those accomplishments.
She went missing on October 28, 2015. An ex-boyfriend, identified only as Dmitry, was charged with her murder. An "acquaintance" of hers, presumably Dmitry, confessed to the crime, but said he could not remember where her body was, according to the Sydney Morning Herald. Balykina was finally found nearly two weeks later in a forest near the capital city of Minsk. Around 300 soldiers had been searching for her remains.
One of the sprinter's friends told the Daily Mail that Balykina had concerns about what the man would do after she dumped him. "Yulia came to my office," the friend said. "She told me what Dmitry told her: 'If you break up with me completely, I'll do something that I'll go in jail for.'"
Olympic rower Sarah Tait died of cancer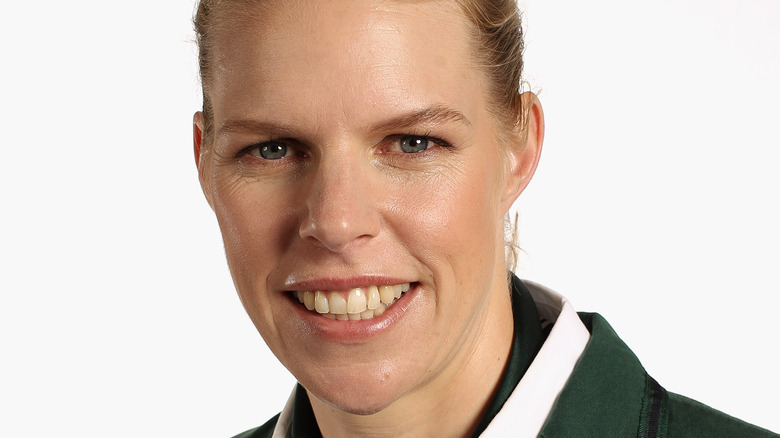 Australian rower Sarah Tait competed in the Olympics three times, as noted by The Guardian. The first was when she was 21 at the 2004 Athens Games in Greece. She then went to Beijing in 2008, before taking time off to have her first daughter. She trained until just three weeks before her due date, according to World Rowing, and started again just nine weeks after delivery, sometimes stopping to breastfeed during practice. She finally won an Olympic medal — silver — in 2012 at London. Less than a year after the birth of her second daughter in 2013, Tait was diagnosed with cervical cancer (via Rowing Australia). At age 33, she passed away from the disease.
John Coates, International Olympic Committee vice-president, was among those who paid tribute after her death, World Rowing reported. "The legacy she leaves for younger women who would like to pursue both motherhood and elite sport is truly inspirational," he said.
Olympic sailor Trevor Moore is presumed dead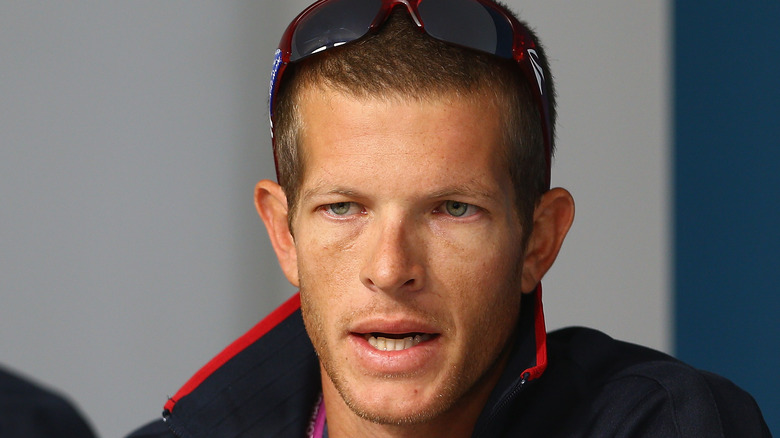 Authorities can't say for certain that Olympian Trevor Moore is deceased — but all evidence points in that direction. The American sailor is presumed dead after being lost at sea in 2015, as reported by NBC News. That June, the U.S. Coast Guard announced it was calling off its three-day search, after his 16-foot boat appeared without him at a Miami marina. He was last seen setting off on a solo sail from nearby Biscayne Bay.
If Moore did indeed meet his fate on the water, it is a shocking end for someone who represented the United States in the 49er class sailing event at the 2012 London Olympics. "I can't even explain to you what emotions and what it really means to be representing the United States," Moore told WPTZ-TV at the time, according to The Washington Post. "You're no longer representing yourself."
Although he only came in 15th, he had won other major competitions (via the Miami Herald), and he had been sailing around Florida since childhood, The Washington Post reported.
Source: Read Full Article