Joe Jonas and Sophie Turner Just Shared the Cutest Instagram Pic for Their Engagement Anniversary
TBH, Joe Jonas and Sophie Turner truly have a perfect love story. First they fell in for each other, then they got married, and now they quite literally have a baby in a baby carriage! But regardless of how perfect things are right now with them and their newborn baby girl, Willa, Joe and Sophie are still taking a moment to reflect on one of the most important dates in their relationship timeline—the day they got engaged!
Joe was the first to post about their engagement anniversary yesterday, sharing a picture to his Instagram Stories of him and Sophie embracing, ring suuuuuper visible, just after the proposal. "Three years ago @sophiet said yes!" he captioned the picture, which Sophie almost immediately reposted to her Stories with a loving string of heart emojis.
Look at how cute they are: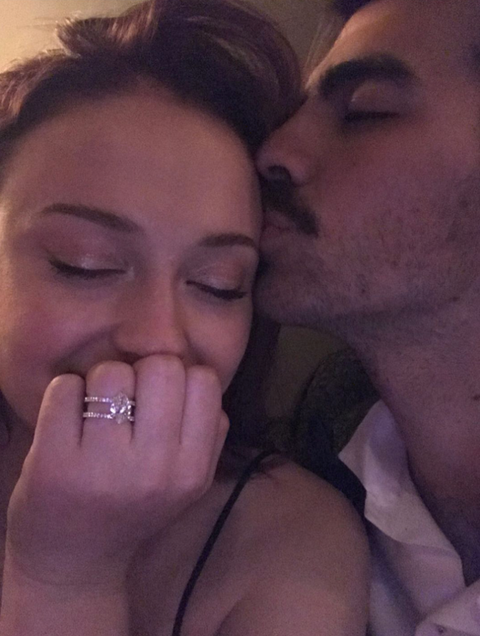 And here's the official engagement pic just to jog your memory:
https://www.instagram.com/p/BaRwF_1gGJd/
In 2018, Joe explained that he and Sophie broke their engagement news so soon because they didn't want the paparazzi to beat them to it. "We knew it would get out if she was walking around with the ring on her finger so we tried to be timely about it, but the emotions took over," he told TV Week. "But, we did leave a lot of phone calls unanswered and tried to make the most of the time to spend together."
Sophie also spoke about her and Joe's engagement that year, and said she was happy to be getting married, but it wasn't the one thing she aspired to accomplish in life. "It's lovely to be engaged," she told Marie Claire. "Not like I achieved anything, but I found my person, like I'd find a house that I love and want to stay in forever. There's a sense of peace that comes with finding your person. But there's a drive that comes with your career."
Hahah, please don't mind me right about now. I'm not crying, I have Joe and Sophie undying love for each other in my eye. :')
Source: Read Full Article