Jennifer Lopez And Ben Afflecks Awkward PDA At The Met Gala Has Fans Talking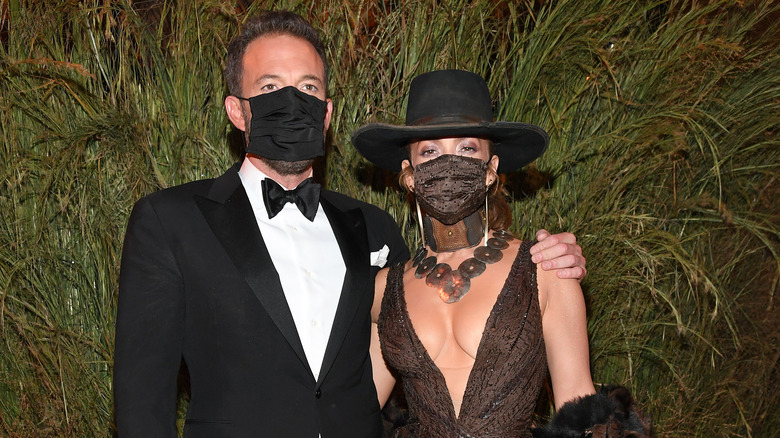 Fact: Jennifer Lopez and Ben Affleck have one of the steamiest relationships on planet Earth. We couldn't get enough of them on their first red carpet since rekindling their romance, with photos from the Venice Film Festival giving us a reason to smile all weekend (via Vanity Fair).
Likewise, fans (us!) were thrilled to see the pair reunite in public for the second time this week at the Met Gala in New York City (via E! Online). The stars dressed for the occasion, with her sporting Ralph Lauren, and him in a dapper-looking tux (via Page Six). The couple also respected safety protocols by wearing face masks, which didn't keep the lovebirds from packing on some major PDA.
In fact, at one point, Lopez and Affleck kissed through their masks, making for an awkward photo opp. Of course, Twitter was quick to react to the moment with both positive and negative feedback for the "it" duo.
Twitter has some thoughts about the awkward PDA moment between Jen and Ben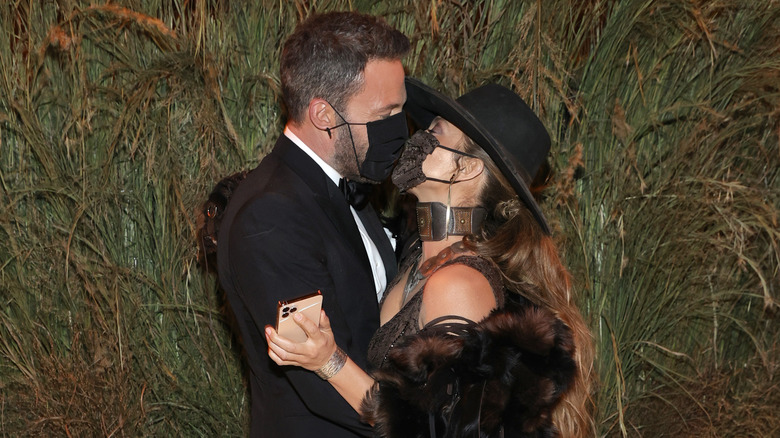 After Jennifer Lopez and Ben Affleck kissed one another while wearing face masks on the red carpet at the Met Gala this week, Twitter lit up with their thoughts, naturally.
"Literally the only ones I've seen with a mask on. Ben and JLo thank you," tweeted on fan who appreciated the safety measure taken by the movie stars. "Romance, but make it safe!" another Twitter user commented.
But other Twitter users found the moment a little too bizarre even if the stars were being safe, with one commenting, "cringe." "Bit weird," someone else said, while another fan simply tweeted, "Why?"
Ultimately, Lopez and Affleck are probably used to their every move being dissected — and hopefully have learned from the past.
About their previous relationship, which ended when they called off their engagement in the early 2000s, the singer has said, "We didn't try to have a public relationship. We just happened to be together at the birth of the tabloids, and it was like, 'Oh my God.' It was just a lot of pressure. I think different time, different thing, who knows what could've happened? But there was a genuine love there" (via Cheat Sheet).
Source: Read Full Article